Receive a hardcover science fiction or fantasy novel each month that has been hand selected by one of our booksellers at a 20% discount + $3.00 shipping fee.
---
February's Pick!
The Unspoken Name by A. K. Larkwood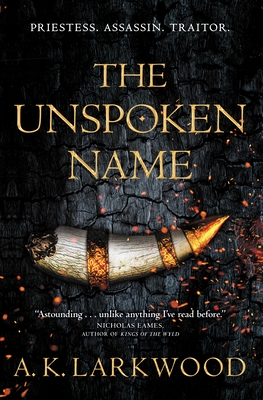 A. K. Larkwood's The Unspoken Name is a stunning debut fantasy about an orc priestess turned wizard's assassin.
What if you knew how and when you will die?
Csorwe does—she will climb the mountain, enter the Shrine of the Unspoken, and gain the most honored title: sacrifice.
But on the day of her foretold death, a powerful mage offers her a new fate. Leave with him, and live. Turn away from her destiny and her god to become a thief, a spy, an assassin—the wizard's loyal sword. Topple an empire, and help him reclaim his seat of power.
But Csorwe will soon learn—gods remember, and if you live long enough, all debts come due.
"In the vein of Le Guin's magnificent Tombs of Atuan—if Arha the Eaten One got to grow up to be a swordswoman mercenary in thrall to her dubious wizard mentor. I love this book so much."—Arkady Martine, author of A Memory Called Empire
"Hooked me in from the first page and never let go. Fabulous, in every meaning of the word."—Jenn Lyons, author of Ruin of Kings
---
2020 Science Fiction & Fantasy Picks ( January - Current )
---
2019 Science Fiction & Fantasy Picks ( January - December )
---
2018 Science Fiction & Fantasy Picks ( January - December )