Event date:
Wednesday, June 28, 2017 - 7:00pm
Established in 1968, the Clarion Writers' Workshop is the oldest workshop of its kind and is widely recognized as a premier proving and training ground for aspiring writers of fantasy and science fiction. As we do each summer, we will be hosting many of the visiting instructors at MGSD. Our 2017 series kicks off with Instructor Dan Chabon, discussing Ill Will, his novel examining how murder shaped the life of psychologist Dustin Tillman, and Instructor Lynda Barry, discussing, her "autobifictionalography" (One! Hundred! Demons!), which is loosely inspired by a Zen painting exercise.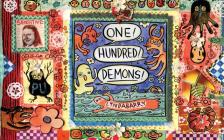 $21.95
ISBN: 9781770462779
Availability: Usually Ships in 1-5 Days
Published: Drawn and Quarterly - April 18th, 2017
Inspired by a sixteenth-century Zen monk's painting of a hundred demons chasing each other across a long scroll, acclaimed cartoonist Lynda Barry confronts various demons from her life in seventeen full-color vignettes. In Barry s hand, demons are the life moments that haunt you, form you, and stay with you: your worst boyfriend; kickball games on a warm summer night; watching your baby brother dance; the smell of various houses in the neighborhood you grew up in; or the day you realize your childhood is long behind you and you are officially a teenager.

As a cartoonist, Lynda Barry has the innate ability to zero in on the essence of truth, a magical quality that has made her book One! Hundred! Demons! an enduring classic of the early twenty-first century. In the book s intro, however, Barry throws the idea of truth out of the window by asking the reader to decide if fiction can have truth and if autobiography can have a fiction, a hybrid that Barry coins autobiofictionalography. As readers get to know Barry s demons, they realize that the actual truth no longer matters because the universality of Barry s comics, true or untrue, reigns supreme.
---

Unavailable to Order
ISBN: 9780345476043
Availability: Special Order
Published: Ballantine Books - March 7th, 2017
A psychologist in suburban Cleveland, Dustin is drifting through his forties when he hears the news: his adopted brother Rusty is being released from prison. Thirty years ago, Rusty received a life sentence for the massacre of Dustin's parents, aunt, and uncle. The trial came to epitomize the 1980s hysteria over Satanic cults; despite the lack of physical evidence, the jury believed the outlandish accusations Dustin and his cousin made against Rusty. Now, after DNA analysis has overturned the conviction, Dustin braces for a reckoning.
---