Traveler's Hotel (Paperback)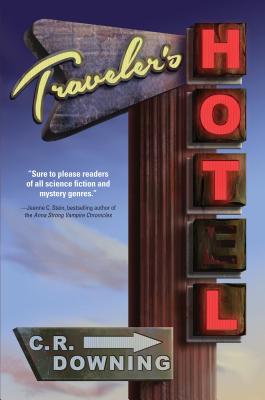 $17.95
Usually Ships in 1-5 Days
Description
---
The wall began to ripple. She felt a jolt, like a low voltage electric current pass through her body then it was over. She shook her head. It was, Shaina decided, time to begin her adventure. She grabbed the handle and pulled hard on the heavy, wooden door. It opened with a groan. Outside, it was overcast. But, it didn't smell all that bad after all. At least not at first. This is how Shaina Brewer arrives at what she thinks is her destination, and is one of the stories in Traveler's HOT L. The remaining seven stories are accounts of time travel by means of one of Earth's two Harmonic Overlapping Time Locations. The stories reveal a unique use of the HOT L by a former mental patient, a pair of counterfeiters, a detective, and four other individuals. As the travelers move through time, they try to repair the damage to the time fabric, attempting to use time as the ultimate hiding place, choosing the "other fork in the road," and righting wrongs. What happens to ex Army sniper, Roselyn Reynolds, while she plays the video game "Battle for a Far Planet" will leave you in doubt about the wisdom of immersing yourself in an electronic fantasy world. She is just one of eight characters who journey across time in adventures that will forever change them.
About the Author
---
Chuck Downing is an author of a series of abstracts/commentary on articles of scientific interest for AccessExcellence.org. He has been writing stories since the early 1980s and won a Teachers as Writers competition and a short story writing contest through Writer s Digest. Both his Masters Thesis and his Doctoral Dissertation were finalist for Outstanding Submission in their respective years.

He is author/editor of "Making Connections," a four-textbook series of integrating science concepts from various disciplines around common theme; co-author of an alternative laboratory manual for "Advanced Placement Biology for People s Education"; designer/developer of six educational laboratory exercises for "Science Kit and Ward s Biological Companies"; and designer/developer of biotechnology laboratory kits for "Stratagene Cloning, Systems."

Chuck has a BS in Biology and an MA and PhD in Science Education. He taught high school and university science courses for 40 years during which time he was a San Diego County Teacher of the Year, a Christa McAuliffe Fellow, a Fellow of the American Society of Molecular Biology and Biochemistry, and a Presidential Awardee for Excellence in Science Teaching."