Collected Millar: The Tom Aragon Novels: Ask for Me Tomorrow; The Murder of Miranda; Mermaid (Paperback)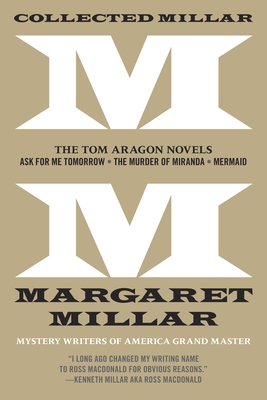 Staff Reviews
---
Mexican-American lawyer Tom Aragon deals with prejudice, the actions of the entitled and their inevitable consequences, and, of course, crime, in a sterling collection of one of the genre's finest authors.
— Maryelizabeth
Description
---
Fast talking Tom Aragon, a Mexican-American lawyer turned private investigator, finds himself investigating a trio of missing persons' cases in the always bizarre California hills. One of Millar's few reoccurring characters and her only foray into the tradition of Chandler and Hammett, Tom Aragon, ranks among her best creations. A sarcastic but talented young lawyer with a few rough edges, Aragon finds himself navigating one entitled nest of vipers after another, not to mention racial prejudice, in three of Millar's most unusual stories. Ask for Me Tomorrow (1976)
Gilda Decker needs a new bag, what with her second husband being suddenly crippled and her ex-husband hiding himself and his money somewhere in the hinterlands of Mexico. Gilda's recently retained lawyer, Tom Aragon, Mexican himself, is the best man for the job. But the deeper Aragon digs into her ex-husband's past the more dangerous his job becomes. The Murder of Miranda (1979)
Miranda Shaw and Grady Keaton should have made for a run-of-the-mill scandal at the prestigious Penguin Beach Club. Shaw, a recently widowed woman of fifty, was seen leaving the club with Keaton, a ruggedly handsome lifeguard half her age. When Miranda and Keaton go missing, the widower's lawyer sends his handiest man to find out where they've wandered off to. The clues come one stranger than the next for Tom Aragon in this often-hilarious novel of folly among the California elite. Mermaid (1982)
Cleo Jasper is as beautiful as she is simple-minded--and now, she's missing. Her doting brother will stop at nothing to find his defenseless sister, who fears the worst. Enter Tom Aragon, who is retained to track her down and return her to safety. Aragon soon realizes that he has once again found himself in over his head when Cleo's friend turns up dead amidst a sea of somewhat dubious suicide notes.
About the Author
---
Margaret Millar (1915-1994) was the author of 27 books and a masterful pioneer of psychological mysteries and thrillers. Born in Kitchener, Ontario, she spent most of her life in Santa Barbara, California, with her husband Ken Millar, who is better known by his nom de plume of Ross Macdonald. Her 1956 novel Beast in View won the Edgar Allan Poe Award for Best Novel. In 1965 Millar was the recipient of the Los Angeles Times Woman of the Year Award and in 1983 the Mystery Writers of America awarded her the Grand Master Award for Lifetime Achievement. Millar's cutting wit and superb plotting have left her an enduring legacy as one of the most important crime writers of both her own and subsequent generations.