Bring Me Their Hearts (Hardcover)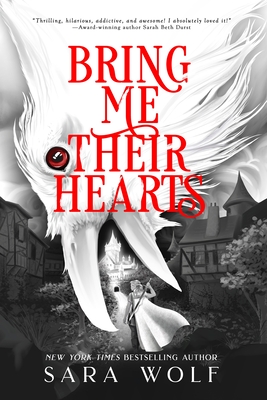 Staff Reviews
---
I've missed the wit of Sara Wolf and was so happy to delve back into her writing with Bring Me Their Hearts. While her books make you smile with their snarky dialogue, her characters have a depth to them that speaks to the struggles of humanity. This new fantasy tells the tale of a girl who must steal the heart of a prince to quite literally win back her own and the freedom she's been desperately begging for for years. Life is never simple though and when we begin to love and care for others how do you make the choice of who to sacrifice, yourself or them. 
Sara's world is filled with dark magic, opposing theologies on the brink of war, clever characters, romance, and the fight to just get to be yourself. I can't wait for book two and to see where this beautiful story goes. 
— Constance
Description
---
A Goodreads "YA Best Book of the Month"
An Amazon "Best Book of the Month: Science Fiction & Fantasy"
Zera is a Heartless—the immortal, unaging soldier of a witch. Bound to the witch Nightsinger, Zera longs for freedom from the woods they hide in. With her heart in a jar under Nightsinger's control, she serves the witch unquestioningly.
Until Nightsinger asks Zera for a prince's heart in exchange for her own, with one addendum: if she's discovered infiltrating the court, Nightsinger will destroy Zera's heart rather than see her tortured by the witch-hating nobles.
Crown Prince Lucien d'Malvane hates the royal court as much as it loves him—every tutor too afraid to correct him and every girl jockeying for a place at his darkly handsome side. No one can challenge him—until the arrival of Lady Zera. She's inelegant, smart-mouthed, carefree, and out for his blood. The prince's honor has him quickly aiming for her throat.
So begins a game of cat and mouse between a girl with nothing to lose and a boy who has it all.
Winner takes the loser's heart.
Literally.
About the Author
---
Sara Wolf is a writer, Sox fan, wine girl, and author of the Lovely Vicious series. She lives in San Diego, California, where she burns instead of tans. When she isn't pouring her allotted lifeforce into writing, she's reading, accidentally burning houses down whilst baking, or making faces at her highly appreciative cat.
http://sarawolfbooks.com/
Praise For…
---
"Zera is an exemplar of confident, capable, relentlessly witty young womanhood. She is assertive, proactive, and, above all, a fun character to follow, yet she's sufficiently well-rounded. ... A zesty treat for YA and new-adult fantasists." –Kirkus Reviews
"Captivating and unique! Sara Wolf has created a world quite unlike one I've ever read in Bring Me Their Hearts. Readers will fall in love with Zera, the girl with no heart who somehow has the biggest heart of all." —Pintip Dunn, New York Times bestselling author of the Forget Tomorrow series
"Thrilling, hilarious, addictive, and awesome! I absolutely loved it!" —Sarah Beth Durst, award-winning author of The Queens of Renthia series
"Everything I need from a story. A standout among fantasies!" —Wendy Higgins, New York Times bestselling author of Sweet Evil
"Sara Wolf is a fresh voice in YA, and her characters never fail to make me laugh and think." —Rachel Harris, New York Times bestselling author of My Super Sweet Sixteenth Century
"From the start, this book completely stole my heart! Sara Wolf has woven a mesmerizing tale in Bring Me Their Hearts that had me glued to each page, unable to put it down until the end." —Brenda Drake, New York Times bestselling author of the Library Jumpers series
"The battle between good and evil bleeds over the pages of this exquisite fantasy." —Olivia Wildenstein, USA TODAY bestselling author of The Lost Clan series

"Original, authentic, and enchanting! Sara Wolf creates a vivid fantasy world like no other. Bring Me Their Hearts is a breath of fresh air in YA fantasy!" —D.D. Miers, USA TODAY bestselling author of the Relic Keeper series
"Absolutely blown away by this world, with its harsh realities and amazing characters." —Pop Reads Box
"The world Sara Wolf created was full of magic, witches, villains, love, and struggle." —As Told By Michelle blog
"Sara Wolf is a national treasure…Bring Me Their Hearts is everything." —Jennifer H., Goodreads reviewer

"Bring Me Their Hearts weaves a tale of fighting for your freedom and deciding what your freedom is actually worth." —FaeCrate
"This book was everything I hoped it would be and more." —Rebekah, Goodreads Reviewer
"...damned if I didn't just eat this up." —The Book Rat
"...this one was a lot of fun with a unique female lead." —Jackie at YA Book Junkies
"This author's worldbuilding is simply magical and you quickly find yourself becoming attached to the very witty Zera..." —YA/NA Book Divas
"This book was amazing. I have never read a book by this author and she moved straight up there to the top 5." - Rustic Book Reviews by Tonya
"Filled with unique magic, action and a generous sprinkling of romance..." - Of Stacks and Cups
"Bring Me Their Hearts is a luscious tale of court intrigue, magic and bloodshed, with a dash of sass and a sprinkle of darkness." - Booknest.eu

"Bring Me Their Hearts is filled with killer, heart stealing witches, mischievous royalty, magic and swords... and so much witty and sarcastic humor. I am so excited to see how the series progresses!" - MyBookAcademy

"This blew my mind. I can't, it was so amazing. " -FoxReadx
"I am completely blown away by this books epicness. It has won the whole of my heart, and I wouldn't wish it back for the world." -KestrelofHerran
"This was such a ride... brilliant, bloody and funny all at once." - Kristin's Books
"Zera's journey is intense and wonderful with moments of love and humor..." - Goodreads Reviewer