A Court of Thorns and Roses (Paperback)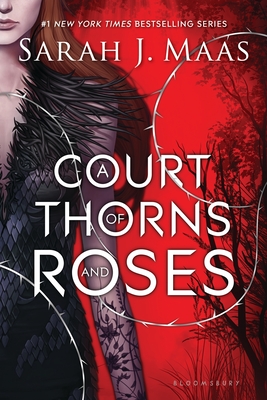 Staff Reviews
---
A Court of Thorns and Roses, by Sarah J. Maas, is a Beauty and the Best retelling, but with a unique twist. In this world, the continent is split in half by a large wall- humans on one side, and faeries on the other, who are powerful and terrifying creatures known to savagely harm humans. After a young huntress named Feyre, shoots and kills a lone wolf in the woods, she is doomed to a lifetime in the lands of the Fae. Learning the dark, secrets of this world, she realizes that an evil force has been plotting and looming over the continent, threatening both the Fae and humans. This is a twisted tale full of deceptions, magic, and monsters. Join Feyre on this adventure as she unravels the secrets of her world, for everything is not as it seems.
Watch my video review here: https://www.youtube.com/watch?v=nX7GYglnsqE
— From
Kaitlyn's Picks!
Description
---
THE INSTANT NEW YORK TIMES BESTSELLER

Perfect for fans of Kristin Cashore and George R.R. Martin, this first book in a sexy and action-packed new series is impossible to put down
When nineteen-year-old huntress Feyre kills a wolf in the woods, a beast-like creature arrives to demand retribution for it. Dragged to a treacherous magical land she only knows about from legends, Feyre discovers that her captor is not an animal, but Tamlin--one of the lethal, immortal faeries who once ruled their world.
As she dwells on his estate, her feelings for Tamlin transform from icy hostility into a fiery passion that burns through every lie and warning she's been told about the beautiful, dangerous world of the Fae. But an ancient, wicked shadow over the faerie lands is growing, and Feyre must find a way to stop it . . . or doom Tamlin--and his world--forever.
About the Author
---
Sarah J. Maas is the #1 New York Times and internationally bestselling author of the Court of Thorns and Roses series, as well as the Throne of Glass series. Her books are published in over thirty-six languages. A New York native, Sarah lives in Pennsylvania with her husband and dog.www.worldofsarahjmaas.comwww.facebook.com/theworldofsarahjmaasInstagram: therealsjmaas