London Rules (Slough House #5) (Hardcover)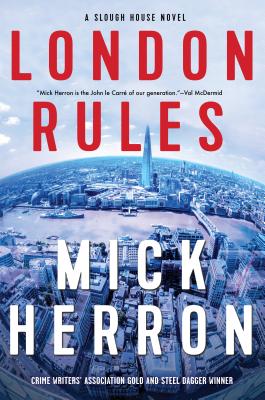 Staff Reviews
---
London Rules by Mick Herron
London Rules is a mordantly funny British spy novel set in present day London. The fifth installment of the superb Jackson Lamb series, it features a group of oddball, defunct MI-5 agents relegated to Slough House, the Secret Service equivalent of Siberia. Their boss is the politically incorrect Jackson Lamb, a former top field operative who hides his brilliance and humanity under a thick layer of repugnance. Their dull world is shaken-up when one of them realizes that a series of recent, bizarre terrorist attacks are related to a leaked document containing dark secrets from MI-5's past. The Slough House group bumbles into action, and we are treated to an ingenious plot, brilliantly crafted characters, absurdly clever dialogue, and scathing political satire. Herron's prose is sublime, and his mix of serious themes, current events, biting social commentary, dry humor, and empathy is unparalleled in modern spy fiction. Highly recommended for fans of espionage and dark comedy.
— Kim
Description
---
Ian Fleming. John le Carré. Len Deighton. Mick Herron. The brilliant plotting of Herron's twice CWA Dagger Award-winning Slough House series of spy novels is matched only by his storytelling gift and an ear for viciously funny political satire.

"Mick Herron is the John le Carré of our generation." —Val McDermid

At MI5 headquarters Regent's Park, First Desk Claude Whelan is learning this the hard way. Tasked with protecting a beleaguered prime minister, he's facing attack from all directions: from the showboating MP who orchestrated the Brexit vote, and now has his sights set on Number Ten; from the showboat's wife, a tabloid columnist, who's crucifying Whelan in print; from the PM's favorite Muslim, who's about to be elected mayor of the West Midlands, despite the dark secret he's hiding; and especially from his own deputy, Lady Di Taverner, who's alert for Claude's every stumble. Meanwhile, the country's being rocked by an apparently random string of terror attacks.
 
Over at Slough House, the MI5 satellite office for outcast and demoted spies, the agents are struggling with personal problems: repressed grief, various addictions, retail paralysis, and the nagging suspicion that their newest colleague is a psychopath. Plus someone is trying to kill Roddy Ho. But collectively, they're about to rediscover their greatest strength—that of making a bad situation much, much worse.
 
It's a good thing Jackson Lamb knows the rules. Because those things aren't going to break themselves.
About the Author
---
Mick Herron is a British novelist and short-story writer who was born in Newcastle and studied English at Oxford. He is the author of six books in the Slough House series (Slow Horses, Dead Lions, Real Tigers, Spook Street, London Rules, and the novella The List) and four Oxford mysteries (Down Cemetery Road, The Last Voice You Hear, Why We Die, and Smoke and Whispers), as well as the standalone novels Reconstruction, Nobody Walks, and This Is What Happened. His work has won the CWA Gold Dagger for Best Crime Novel, the Steel Dagger for Best Thriller, and the Ellery Queen Readers Award, and been nominated for the Macavity, Barry, Shamus, and Theakstons Novel of the Year Awards. He currently lives in Oxford and writes full-time.
Praise For…
---
Praise for London Rules

Shortlisted for the 2018 Crime Writers' Association Gold Dagger
Shortlisted for the 2018 Crime Writers' Association Ian Flemming Steel Dagger

"Mick Herron is the John le Carré of our generation."
—Val McDermid

"Herron cleverly spins the templates of the spy thriller, and his style can bite with the wit of an Evelyn Waugh or Kingsley Amis."
—Tom Nolan, The Wall Street Journal

"[Herron] really is funny and his cynicism is belied, here and there, by flashes of the mingled tenderness and anger that seem to define Britain's post-Brexit self-reflections."
—Charles Finch, USA Today

"Scathingly funny."
—Newsweek

"Slough House, in this winning series, is where incompetent or disgraced British spies spend their days on meaningless busywork. That is, unless they stumble into genuine espionage. Herron is a subtle stylist, and he strikes a perfect balance of big-hearted humor and thrilling spy stuff."
—The Seattle Times

"Hilarious and suspenseful . . . Sharper than most espionage fiction being written today and manages to stay uncannily contemporary."
—St. Louis Post-Dispatch

"The new spy master . . . If Slough House on Aldersgate Street EC1 really existed it would already rival the Old Curiosity Shop on Portsmouth Street WC2 as a landmark of literary London . . . Herron has read his Carl Hiaasen as well as his Charles Dickens. The coruscating cynicism and cartoon comedy do not detract from the seriousness of the message: 'Hate crime pollutes the soul, but only the souls of those who commit it.'"
—Evening Standard

"The new king of the spy thriller."
—Mail on Sunday

"The best modern British spy series."
—Daily Express

"Herron's comic brilliance should not overshadow the fact that his books are frequently thrilling, often thought-provoking, and sometimes moving and even inspiring. Reading one of Herron's worst books would be the highlight of my month and London Rules is one of his best."
—Sunday Express

"His character [Jackson Lamb] is a modern Falstaff . . . He's [Herron] been called the heir to Len Deighton—and Mick Herron's latest mordantly funny espionage novel only backs that up."
—Sunday Times

"London Rules confirms Mick Herron as the greatest comic writer of spy fiction in the English language, and possibly all crime fiction."
—The Times

"Superb."
—Irish Times

"Sharper, funnier and more distorted than ever."
—Literary Review

"This is modern British spy fiction at its brilliant best; taut, tense, quirky, funny and thrilling."
—Choice

"Le Carré looks sugar-coated next to the acid Slough House novels . . . As a master of wit, satire, insight and that very English trick of disguising heartfelt writing as detached irony before launching a surprise assault on the reader's emotions, Herron is difficult to overpraise."
—Daily Telegraph

"Herron adeptly negotiates the rules of satire and the laws of libel to create fictional public figures who simultaneously hit more than one real-life bullseye . . . Stylistically, Herron's narrative voice swoops from the high to the low but it's the dialogue that zings: the screenwriters of the inevitable TV version won't have to change much . . . Herron is a very funny writer, but also a serious plotter."
—The Guardian

"A terrorist attack in Derbyshire kills 12, leading to a difficult manhunt with twists and turns in a strong plot combining espionage, bureaucracy and the power of a community's response to a terrorist attack."
—The Gainesville Sun

"Herron's sharp wit makes the Slough House novels something special, his team of maverick spies bringing a delightful, freewheeling edge to the genre. This is prime spy fiction with more than a touch of wry."
—Booklist, Starred Review

"The most remarkable and mesmerizing series of novels, set mostly and explicitly in London, to have appeared in years. It is hypnotically fascinating, absolutely contemporary, cynical and hopeful."
—The Arts Desk

"Jackson Lamb—subtle of brain but outrageously gross in almost every other way—still rules over his band of misfit agents in this fifth title in Herron's hilarious take on the contemporary spy thriller. Based at decrepit Slough House, dumping ground for the security services' awkward squad, his team get the jump on their disdainful colleagues when a weird terrorist plot starts to play out."
—Sunday Times Crime Club

"Herron shows once again that the United Kingdom's intelligence community is every bit as dysfunctional and alarmingly funny as Bill James' cops and robbers."
—Kirkus Reviews

"Superlative . . . Heady stuff for a powerful thriller cleverly disguised as entertainment."
—Open Letters Monthly

"London Rules is often so funny that you ought to avoid reading it on public transport, where solitary giggling is looked at with some disquiet."
—Reviewing the Evidence

"This blackly humorous fifth in the series is a deserved finalist for the 2018 Gold and Steel Dagger Awards."
—Stop, You're Killing Me!

"London Rules may be the best Jackson Lamb thriller yet, and that's saying something, considering how brilliant the previous ones are."
—Mark Billingham, author of the internationally bestselling Tom Thorne novels

"London Rules takes the Jackson Lamb series to new levels of nerve-shredding tension, leavened as always with moments of eye-watering hilarity—often on the same page."
—Christopher Brookmyre, author of the Jack Parlabane thrillers

Praise for CWA Gold & Steel Dagger Winner Mick Herron 

"Terrific spy novel . . . Sublime dialogue, frictionless plotting." 
—Ian Rankin, bestselling author of the Inspector Rebus series

"Mick Herron never tells a suspense story in the expected way . . . In Herron's book, there is no hiding under the desk." 
─The New York Times Book Review
 
"Stylish and engaging." 
─The Washington Post

"Heroic struggles, less-heroic failures and a shoot-out-cum-heist . . . with no let-up in the page-turning throughout." 
—Esquire 
 
"A funny, stylish, satirical, gripping story . . . Memorably seedy characters, sharp dialogue, complex plot. I'm hooked."
—The Guardian 
 
"This is blackly funny, tense and worryingly plausible. The most enjoyable British spy novel in years." 
—Mail on Sunday
 
"[A] deliciously sleazy and sophisticated spy thriller." 
—The Irish Times

"Herron combines the thoughtful characterizations of John le Carré, the humor of Len Deighton's Harry Palmer books and the puzzlebox plots of Brian Freemantle into an altogether new and satisfying spy concoction."
—Spywrite (website)