Kid vs. Squid (Hardcover)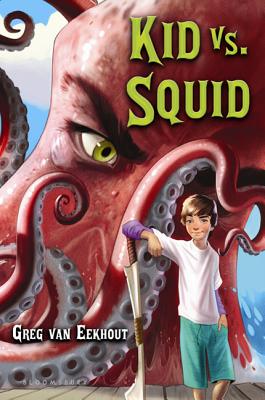 Summer 2010 Kids' Next List
---
"This is the perfect book for middle school boys and reluctant readers. The hysterical dialogue, bizarre sea creatures, and action packed fight scenes will latch on to the reader with tentacle-like suction! I dare you to read this book and not enjoy it!"
— Summer Moser, Summer's Stories, Kendallville, IN
Description
---
Thatcher Hill is bored stiff of his summer job dusting the fake mermaids and shrunken heads at his uncle's seaside Museum of Curiosities. But when a mysterious girl steals an artifact from the museum, Thatcher's summer becomes an adventure that takes him from the top of the ferris wheel to the depths of the sea. Following the thief, he learns that she is a princess of the lost Atlantis. Her people have been cursed by an evil witch to drift at sea all winter and wash up on shore each summer to an even more terrible fate-working the midway games and food stands on the boardwalk. Can Thatcher help save them before he, too, succumbs to the witch's curse?
With sharp, witty writing that reads like a middle-grade Douglas Adams' Hitchhiker's Guide to the Galaxy, Greg van Eekhout's first book for young readers is a wild ride packed with as many laughs as it has thrills.
About the Author
---
This is Greg van Eekhout's first middle grade novel; his adult fantasy novel based on Nordic mythology - NORSE CODE - came out from Bantam in June. Publishers Weekly praised it: "Short story author van Eekhout makes a successful leap to long fiction with this thrilling urban fantasy. The compelling prose and epic blend of mythological and modern elements make it clear that van Eekhout is an author to watch."Pronounciation guide: "emphasis on the EEK. The HOUT part rhymes with OUT, as in, 'Hey, I'm going OUT for some guacamole.'"
Praise For…
---
"[Greg] van Eekhout chivvies the plot along at a lively pace to a hold-your-breath climax and a deftly choreographed resolution. He also leaves the main characters around for sequels—which in this case, at least, could be a Good Thing." -Kirkus Reviews "Van Eekhout carefully balances his tongue in his cheek with some really creepy situations, and the result is a humorous fantasy that will rush over young readers like a tidal wave." -School Library Journal