Live and Let Chai (Seaside Cafe Mysteries #1) (Mass Market Paperbound)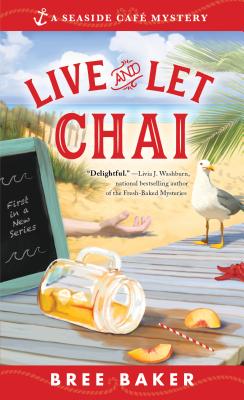 Staff Reviews
---
Discover: A cozy mystery set in a seaside North Carolina town features iced tea, a slow-brewing romance and murder.
After dropping out of culinary school and getting her heart broken by a cowboy, Everly Swan has returned to Charm, her quaint seaside hometown in North Carolina. Things are looking up: she's just opened her dream iced tea shop and cafe in a gorgeous Victorian house that's also her new home. But when a cranky local councilman is found dead on the boardwalk with one of Everly's signature tea jars next to him and poison in his system, she must battle a wave of suspicion from the townspeople. An anonymous vandal begins targeting Everly's shop, and she becomes even more determined to clear her name and find the killer. Bree Baker brews up a cozy mystery as sweet and Southern as Everly's tea in her debut, Live and Let Chai.
Baker fills her town with (mostly) appealing characters, including the owners of Charm's other small businesses: the bookstore, the ice cream shop, the general store. Everly's quirky beekeeper aunts, Fran and Clara, offer more local color and emotional support, while an unnervingly handsome, new-in-town detective provides expert crime analysis and a bit of romantic interest. In classic amateur sleuth fashion, Everly follows every lead with more tenacity than discretion, throwing a wrench or two into the police investigation, but also turning up some useful information. While Everly's cooking skills far outpace her sleuthing abilities, this is an enjoyable setup for Baker's series, best enjoyed with a sweating glass of sweet tea. --Katie Noah Gibson, blogger at Cakes, Tea and Dreams
— Shelf Awareness
Description
---
The first book in a delightful new beachside cozy mystery series
Trouble is brewing in Everly's new caf . Can she bag the culprit?
Life hasn't been so sweet for Everly Swan over the past couple of years, but now that she is back in her seaside hometown and the proud owner of a little iced tea shop and caf right on the beach, things are finally starting to look up--until a curmudgeonly customer turns up dead on the boardwalk. With one of her hallmark glass tea jars lying right next to him and an autopsy that reports poison in his system, it doesn't look good for Everly or her brand new business.
As the townspeople of Charm, formerly so welcoming and homey, turn their back on Everly, she fights to dig up clues about who could have had it in for the former town councilman. With a maddeningly handsome detective discouraging her from uncovering leads and a series of anonymous attacks on Everly and her business, it will take everything she's got to keep this mystery from boiling over.