The Deep (Mass Market Paperbound)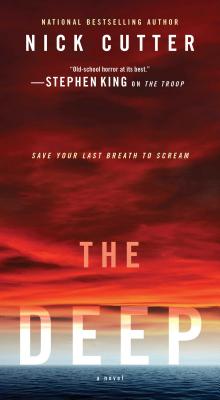 Staff Reviews
---
What Ridley Scott did for outer space, Nick Cutter does for the ocean, in his iron lung of a horror novel, The Deep. A devastating plague is ravaging humanity, scarring its victims' skin with ulcers like mold spots before eroding their minds like Alzheimer's disease. Eight miles down in the Mariana trench, a research station built to harvest a "miracle cure" goes silent. A submersible rises to the surface, containing the partially regenerated body of a mutilated scientist. Luke Nelson takes the plunge to investigate what happened to the research team, which was headed by his brilliant, narcissistic brother. We descend with Luke into a permanent midnight of relentless claustrophobia, body horror and madness, hitting bottom in a monster maelstrom where regenerative medicine is the disease. Fans of hardcore horror—this grue is for you.
- R.J. Crowther Jr.
(Warning: book contains scenes of animal cruelty)
— From
Rob Crowther
Description
---
From the national bestselling author of The Troop--which Stephen King raved "scared the hell out of me and I couldn't put it down....old-school horror at its best"--an utterly terrifying novel that pits the mysteries of The Abyss against the horrors of The Shining. A strange plague called the 'Gets is decimating humanity on a global scale. It causes people to forget--small things at first, like where they left their keys...then the not-so-small things like how to drive, or the letters of the alphabet. Then their bodies forget how to function involuntarily...and there is no cure. But now, far below the surface of the Pacific Ocean, deep in the Mariana Trench, an heretofore unknown substance hailed as "ambrosia"'--a universal healer, from initial reports--has been discovered. It may just be the key to eradicating the 'Gets. In order to study this phenomenon, a special research lab, the Trieste, has been built eight miles under the sea's surface. But when the station goes incommunicado, a brave few descend through the lightless fathoms in hopes of unraveling the mysteries lurking at those crushing depths...and perhaps to encounter an evil blacker than anything one could possibly imagine. "Fans of unflinching bleakness and all-out horror will love this novel....Each new shock is freshly disturbing" (Publishers Weekly, starred review).