Tarnished and Torn (MP3 CD)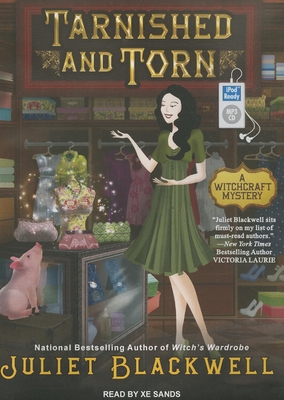 Description
---
When Lily arrives at an antique jewelry fair, her bargain sensors go off left and right-but she also picks up a faint vibration of magic. Could the hard-bargaining merchant Griselda be a fellow practitioner? It certainly seems that way when a sudden fire sends panic through the crowd, and Lily discovers Griselda murdered in a way that nods to an old-fashioned witch hunt. A crime that hits close to home turns into an unwelcome flash from the past when the police bring in their lead suspect-Lily's estranged father. Though he may not deserve her help, Lily is determined to clear her father's name and solve a murder that's anything but crystal clear.
About the Author
---
Juliet Blackwell is the pseudonym for a mystery author who, together with her sister, wrote the Art Lover's Mystery series, which includes "Shooting Gallery," "Brush with Death," and the Agatha Award nominated "Feint of Art." A former anthropologist and social worker, Juliet currently resides in Oakland, California.

Xe Sands is an award-winning narrator known for her authentic characterizations and intimate delivery. She has more than a decade of experience bringing stories to life through narration, performance, and visual art, including recordings of "Wonderland" by Stacey D'Erasmo and "Survival Lessons" by Alice Hoffman."