Lord of Shadows (Dark Artifices #2) (Hardcover)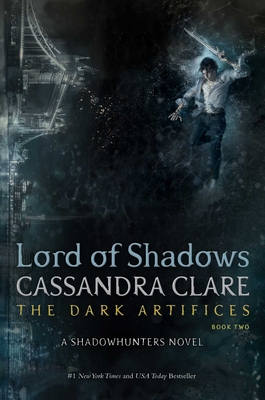 Staff Reviews
---
Cassandra Clare takes readers on another epic adventure through beautiful Los Angeles, California with this next installment in her Dark Artifices trilogy. Prepare for more heartbreak, happiness, and fun as we follow Emma, Julian, Mark, and the rest of the Blackthorn family after the events of Lady Midnight. This book will take you by surprise as Clare alters the future of the Shadowhunter World forever. This book was so complex and intriguing, and sometimes feels like a giant puzzle, for the readers discover the secrets and events right along with the characters. We meet many new characters and revisit some old ones. Cassandra Clare also pleasantly sets up the next two spin-off series, The Last Hours and the Wicked Powers, in Lord of Shadows, so this is a must-read for fans of the Shadowhunter Chronicles!
Spoiler-free review: https://www.youtube.com/watch?v=PmXJIzZPGoE
— From
Kaitlyn's Picks!
Description
---
A #1 New York Times and USA TODAY bestseller Sunny Los Angeles can be a dark place indeed in Cassandra Clare's Lord of Shadows, the bestselling sequel to Lady Midnight. Lord of Shadows is a Shadowhunters novel. Emma Carstairs has just learned that the love she shares with her warrior partner and parabatai, Julian Blackthorn, isn't just forbidden--it could destroy them both. She knows she should run from Julian. But how can she when the Blackthorn family is threatened by enemies on all sides? Their only hope is the Black Volume of the Dead, a spell book of terrible power. Everyone wants it. Only the Blackthorns can find it. Spurred on by a dark bargain with the Seelie Queen, Emma; her best friend, Cristina; and Mark and Julian Blackthorn embark on a journey into the Courts of Faerie, where glittering revels hide bloody danger and no promise can be trusted. As dangers close in, Julian devises a risky new scheme that depends on the cooperation of an unpredictable enemy. But success may come with a price he and Emma cannot even imagine, one that will have repercussions for everyone and everything they hold dear.