Medusa Uploaded: A Novel (The Medusa Cycle #1) (Paperback)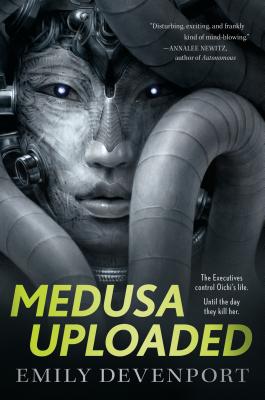 Description
---
Medusa Uploaded by Emily Devenport offers readers a fast-paced science fiction thriller on the limits of power and control, and the knife-edge between killing for revenge or a greater good.

io9—28 New Scifi and Fantasy Books to Add to Your Shelves in May
The Verge—12 Science Fiction and Fantasy Novles to Check Out This May
Kirkus—Best SFF and Horror Out in May
My name is Oichi Angelis, and I am a worm.

They see me every day. They consider me harmless. And that's the trick, isn't it?
A generation starship can hide many secrets. When an Executive clan suspects Oichi of insurgency and discreetly shoves her out an airlock, one of those secrets finds and rescues her.
Officially dead, Oichi begins to rebalance power one assassination at a time and uncovers the shocking truth behind the generation starship and the Executive clans.
About the Author
---
EMILY DEVENPORT has written several novels under various pseudonyms including one which was a finalist for the Philip K. Dick award. She is currently studies Geology and works as a volunteer at the Desert Botanical Garden in Phoenix. Emily is the author of Medusa Uploaded.
Praise For…
---
Praise for Medusa Uploaded
"There are mysteries around every corner here, layered on top of one another, and the end product is just as fantastic as one would hope."—Los Angeles Times
"The first book in the Medusa Cycle does not disappoint."—RT Book Reviews (4 stars)
"A chilling tale of class warfare in deep space."—Booklist
"Readers will be riveted."—Publishers Weekly (starred review)
"An enticing start to a new space opera . . . will capture readers."—Library Journal

"One of the best generation starship novels."—SF Revu

"Emily Devenport is a magnificent craftswoman. . . . This may prove to be one of the best books of 2018."—The Nameless Zine
"The worlds . . . both physical and virtual, are richly detailed and gorgeously imagined."—Kirkus

"A fantastic, fast paced, twisty sci-fi thriller that builds mystery on top of mystery."—The Illustrated Page
"Fascinating courtly intrigue and bloody power games set on a generation ship full of secrets—Medusa Uploaded is an imaginative, intense mystery about family dramas and ancient technologies whose influence reverberates across the stars. Disturbing, exciting, and frankly kind of mind-blowing."—Annalee Newitz, author of Autonomous