Witchmark (Paperback)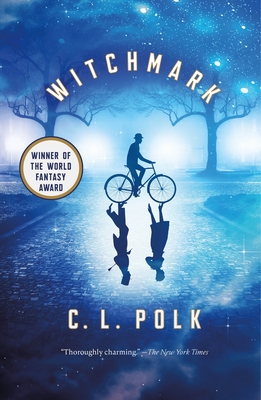 Staff Reviews
---
This story has many elements – power struggles, casualties of war, love, steampunk, subterfuge, greater good, magic, witchcraft. Dr. Miles Singer, returned from the war, has hidden the fact that he is still alive from his family. If found out, his magical powers would be bound and subjugated to those of his sister. The dying decree of a man brought in by an enigmatic gentleman to the hospital where Miles practices (Tristan Hunter) sets the course for Miles and Tristan to discover the darkness within returning soldiers, why magical is dying, and where have so many souls gone.  I really enjoyed this story and following the characters as they discover one hidden truth after another. This is C.L. Polk's debut novel and is the beginning of a series. Can't wait for the next book! 
— Christine
Description
---
C. L. Polk arrives on the scene with Witchmark, a stunning, addictive fantasy that combines intrigue, magic, betrayal, and romance.

One of Publishers Weekly's Most Anticipated Books of Spring 2018
In an original world reminiscent of Edwardian England in the shadow of a World War, cabals of noble families use their unique magical gifts to control the fates of nations, while one young man seeks only to live a life of his own.
Magic marked Miles Singer for suffering the day he was born, doomed either to be enslaved to his family's interest or to be committed to a witches' asylum. He went to war to escape his destiny and came home a different man, but he couldn't leave his past behind. The war between Aeland and Laneer leaves men changed, strangers to their friends and family, but even after faking his own death and reinventing himself as a doctor at a cash-strapped veterans' hospital, Miles can't hide what he truly is.
When a fatally poisoned patient exposes Miles' healing gift and his witchmark, he must put his anonymity and freedom at risk to investigate his patient's murder. To find the truth he'll need to rely on the family he despises, and on the kindness of the most gorgeous man he's ever seen.
About the Author
---
C. L. POLK wrote her first story in grade school and still hasn't learned any better. After spending years in strange occupations and wandering western Canada, she settled in southern Alberta with her rescue dog Otis. C. L. has had short stories published in Baen's UNIVERSE and contributes to the web serial Shadow Unit.