The Coincidence Makers: A Novel (Hardcover)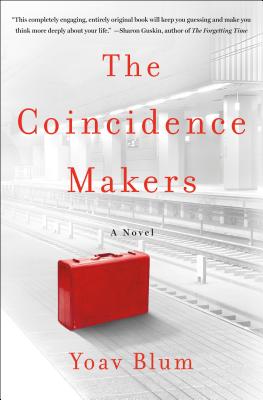 Staff Reviews
---
It may or may not be a coincidence that you are reading this review (and possibly this book). Since every coincidence is orchestrated by the Coincidence Makers (CM), it is hard to determine if free will exists at all. Enter this world where the CM class of '75 consists of Emily, Eric, and Guy. "The General" leads them through the steps and the foundations that allow them to work on this parallel plane, and we will see how coincidences can be manufactured and manipulated by this highly skilled group. But to what purpose, and why? You will have to read this genre-bending, unique novel to find out.
— Terry
Description
---
In this genre-bending novel, there is no such thing as chance and every action is carefully executed by highly trained agents. You'll never look at coincidences the same way again.
What if the drink you just spilled, the train you just missed, or the lottery ticket you just found was not just a random occurrence? What if it's all part of a bigger plan? What if there's no such thing as a chance encounter? What if there are people we don't know determining our destiny? And what if they are even planning the fate of the world?
Enter the Coincidence Makers—Guy, Emily, and Eric—three seemingly ordinary people who work for a secret organization devoted to creating and carrying out coincidences. What the rest of the world sees as random occurrences, are, in fact, carefully orchestrated events designed to spark significant changes in the lives of their targets—scientists on the brink of breakthroughs, struggling artists starved for inspiration, loves to be, or just plain people like you and me…
When an assignment of the highest level is slipped under Guy's door one night, he knows it will be the most difficult and dangerous coincidence he's ever had to fulfill. But not even a coincidence maker can see how this assignment is about to change all their lives and teach them the true nature of fate, free will, and the real meaning of love.
Part thriller, part mystery, part love story—Kirkus calls Yoav Blum's The Coincidence Makers "a smart, unpredictable, and heartfelt adventure story."
About the Author
---
Yoav Blum is an international bestselling author and software developer. His first three books became instant Israeli bestsellers. The Coincidence Makers, his debut, will be translated into more than ten languages. He currently lives in Israel with his wife and two daughters. When he is not writing (literature or code) he contemplates what he'll do when he grows up.
Praise For…
---
"Artfully blending elements of thriller, romance, and fantasy in a beautiful prose, Blum's novel is a flight of imagination that will echo in readers' minds long after the last pages have been turned." - Booklist, Starred Review
"Blum immerses readers in an adventurous supernatural world, one that dramatically investigates the tenuous scrim between fantasy and reality, the living and the dead." - Shelf Awareness
"Blum rides the delicate balance between the world of the truly unbelievable and the universe you can see if you squint your eyes just right." - Publishers Weekly