The X-Files Origins: Devil's Advocate (Paperback)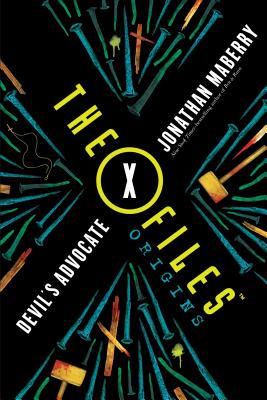 Description
---
How did Dana Scully become a skeptic? The X-Files Origins has the answers in this young adult, science-fiction origin story by New York Times-bestselling author Jonathan Maberry.
The X-Files Origins: Devil's Advocate will explore the teen years of Dana Scully, the beloved character depicted in the cult-favorite TV show The X-Files. Her story is set in the spring of 1979, when serial murder, the occult, and government conspiracy were highlighted in the news. The book will follow Scully as she experiences life-changing events that set her on the path to becoming an FBI agent.
Fifteen-year-old Dana Scully has bigger problems than being the new girl in school. Dana has always had dreams. Sometimes they've even come true. Until now, she tried to write this off as coincidence. But ever since her father's military career moved the family across the country to Craiger, Maryland, the dreams have been more like visions. Vivid, disturbing, and haunted by a shadowy figure who may be an angel . . . or the devil.
When a classmate who recently died in a car accident appears before Dana, her wounds look anything but accidental. Compelled by a force she can't name, Dana uncovers even more suspicious deaths?and must face the danger-ous knowledge that evil is real.
But when a betrayal of faith makes her question everything, she begins to put her faith in being a skeptic.
Don't miss out on additional X-Files backstory in The X-Files Origins: Agent of Chaos, by Kami Garcia, about 17-year-old Fox Mulder.
An Imprint Book.
Praise for The X-Files Origins: Devil's Advocate
"A page-turning thriller from a master storyteller that all readers can enjoy. A must-read for both die-hard fans and those who have never heard of Dana Scully." --Melissa de la Cruz, #1 New York Times-bestselling author of The Isle of the Lost and Witches of East End series.
"This was a fun and suspenseful murder mystery with plenty of the supernatural. . . . I thoroughly enjoyed the characters and the creepy plot. X-Files fans, both teens and adults alike, should check out these new stories. There are some great nods to the show with a nostalgic feel that didn't disappoint." --SciFiChick.com
About the Author
---
Jonathan Maberry is a New York Times bestselling author, multiple Bram Stoker Award winner, and Marvel Comics writer. He's the author of many novels for adults and young adults, including Assassin's Code, Dead of Night, Patient Zero, and Rot & Ruin. His nonfiction books cover topics ranging from martial arts to zombie pop culture. He lives in Del Mar, California, with his wife, Sara, and their son, Sam.