Super Happy Party Bears: Staying a Hive (Paperback)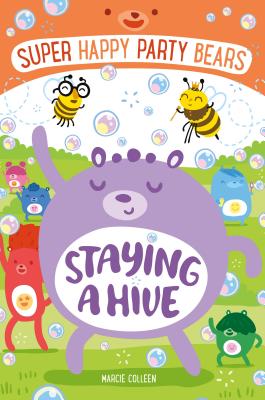 Description
---
The fourth book in a funny chapter book series filled with full color illustrations and adorable animals
When Queen Beetrice and her beehive opens for business in the Grumpy Woods, the Super Happy Party Bears are excited--they LOVE honey But the other Grumpy Woods residents are very unhappy with all the noisy buzzing going on, and they boycott the bees
Too much sugar sends the bears into early hibernation and soon the woods are overflowing with uneaten honey. The townscritters need a fast solution to the sticky situation--and so they decide to throw an Un-Slumber Party to wake those bears up
Read all the Super Happy Party Bears adventures:
Super Happy Party Bears: Gnawing Around
Super Happy Party Bears: Knock Knock on Wood
Super Happy Party Bears: Going Nuts
Super Happy Party Bears: Bat to the Bone
Super Happy Party Bears: The Jitterbug
Super Happy Party Bears: Tiny Prancer
Super Happy Party Bears: Cruising for a Snoozing
An Imprint Book
Praise for Super Happy Party Bears: Knock Knock on Wood:
"The pure delight of the story will easily draw youngsters in and probably turn a few grumpy frowns upside down." ?The Bulletin of the Center for Children's Books (BCCB)
About the Author
---
Marcie Colleen is the author of the Super Happy Party Bears series. She's a former classroom teacher and current Educational Consultant for the Picture Book Month initiative. In that role, she presented at a recent New York Public Library Literary Salon, which focused on the Common Core. She also creates Teacher's Guides for picture books and middle grade novels and is a huge advocate for using children's fictional literature in the classroom. Steve James has ten years experience in the art industry (animation, greeting cards and video game artwork). Super Happy Party Bears is his first children's book. Steve's art is influenced by Adventure Time, Oliver Jeffers and walks in the countryside. He lives near Leeds, a vibrant city in the United Kingdom.