The King of Plagues (Joe Ledger Novels #3) (Mass Market Paperbound)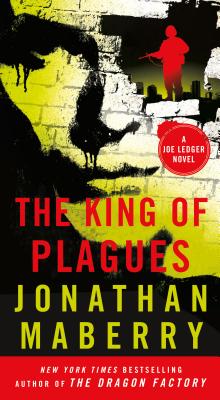 Description
---
Saturday 09:11 Hours: A blast rocks a London hospital and thousands are dead or injured...
10:09 Hours: Joe Ledger arrives on scene to investigate. The horror is unlike anything he has ever witnessed. Compelled by grief and rage, Joe rejoins the DMS and within hours is attacked by a hit team of assassins and sent on a suicide mission into a viral hot zone during an Ebola outbreak. Soon Joe and the Department of Military Sciences begin tearing down the veils of deception to uncover a vast and powerful secret society using weaponized versions of the Ten Plagues of Egypt to destabilize world economies and profit from the resulting chaos. Millions will die unless Joe meets this powerful new enemy on its own terms: fighting terror with terror.
This edition of the book is the deluxe, tall rack mass market paperback.
About the Author
---
Jonathan Maberry is the multiple Bram Stoker Award-winning author of Patient Zero, The Dragon Factory, Ghost Road Blues and Rot & Ruin, among others. He also wrote the novelization of the movie The Wolfman. His work for Marvel Comics includes Captain America, Punisher, Wolverine, DoomWar, Marvel Zombie Return and Black Panther. His Joe Ledger series has been optioned for TV by Sony Pictures. He has been inducted into the International Martial Arts Hall of Fame.