The Scarlet Gospels (Hardcover)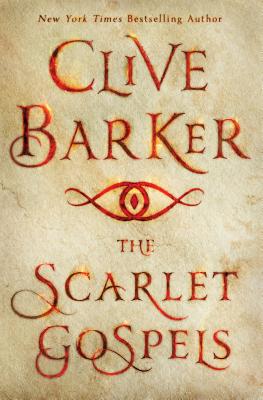 $29.69
Usually Ships in 1-5 Days
Staff Reviews
---
The Scarlet Gospels is a phantasmagoric masterpiece, a revelation writ in dripping red grotesqueries. Grand tableaux of beautiful terror and terrible beauty form the chapter and verse of Barker's revelation, which tells the tale of Pinhead, his most famous creation, as the Hell Priest starts a war and sets his sights on godhood. Harry D'Amour, a battlescarred occult detective, is forced to make a devil' s bargain with the Cenobite: chronicle the Hell Priest's gospel like a modern Dante, or witness the death of everyone he loves. Weaving through this gospel, binding it together, are surprising cords of love and humanity, which celebrate the power of diversity. Clive Barker owes much to William Blake and Bosch, but Poe too is evident in this symphony of horror, with "The Conqueror Worm" serving as the chorus: "That motley drama--oh, to be sure, it shall not be forgot!... And much of Madness, and more of Sin, and Horror the soul of the plot." If you have any doubts about Barker's vision, The Scarlet Gospels will make you a convert. - R.J. Crowther Jr.
— From
Rob Crowther
Description
---
The New York Times bestseller from Clive Barker, who brings his extraordinary universes of Hellraiser and Lord of Illusions together in a masterpiece of dark fantastic horror.

The Scarlet Gospels takes readers back many years to the early days of two of Barker's most iconic characters in a battle of good and evil as old as time: The long-beleaguered detective Harry D'Amour, investigator of all supernatural, magical, and malevolent crimes faces off against his formidable, and intensely evil rival, Pinhead, the priest of hell.
Barker devotees have been waiting for The Scarlet Gospels with bated breath for years, and it's everything they've begged for and more. Bloody, terrifying, and brilliantly complex, fans and newcomers alike will not be disappointed by the epic, visionary tale that is The Scarlet Gospels. Barker's horror will make your worst nightmares seem like bedtime stories. The Gospels are coming. Are you ready?
Readers can get more Pinhead from the direct to video Hellraiser: Judgment movie coming February 2018.
About the Author
---
CLIVE BARKER is a legendary author, filmmaker, and visual artist. His acumen as a horror writer has been praised as some of the most influential to pop culture in recent times. Stephen King hailed Barker as "the future of horror." His Books of Blood series and his novella The Hellbound Heart which inspired the Hellraiser movies have amassed a global cult following and cemented their place in pop culture history. The Scarlet Gospels marks Barker's return to horror fiction.