Spirits of Ash and Foam: A Rain of the Ghosts Novel (Paperback)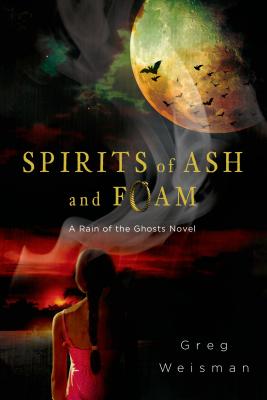 Description
---
Welcome to the Prospero Keys (or as the locals call them: the Ghost Keys), the beautiful chain of tropical islands on the edge of the Bermuda Triangle where Rain Cacique lives. When Rain's maternal grandfather passed away, he left her his special armband: two gold snakes intertwined, clasping each other's tails in their mouths. Rain soon discovers that the armband is actually a zemi a very powerful talisman created by the island's native Arawak Taino Indians and that it allows Rain to see ghosts, including her own grandfather who is determined to help her uncover the Ghost Keys' hidden world of mystery and mysticism, intrigue and adventure.
Now, Rain Cacique's looking for a few answers and the second zemi, a Taino relic that allows her to see dead people. But it's the first week of school, so she's pretty busy juggling teachers, homework, baby-sitting duties, new friends, missing tourist kids and a vampire with a tribal twist.
"Spirits of Ash and Foam "is the second installment in Greg Weisman's Rain of the Ghosts series.
About the Author
---
GREG WEISMAN is an American comic book and animation writer and producer, best known as the creator of Gargoyles and as the Supervising Producer of The Spectacular Spider-Man. Weisman is currently a writer and Executive Producer on the forthcoming Star Wars: Rebels cartoon on Disney XD. He has been nominated for a number of Emmy Awards for his writing for animation.
Praise For…
---
Praise for Rain of the Ghosts:

"From his work on DC's cartoon Young Justice to his first novel, Rain of the Ghosts, he hits it out of the park every time!" —Danica McKellar, actress and bestselling author of Math Doesn't Suck

"The perfect book for the young adult reader." —Stan Lee

"A thoroughly entertaining joyride." —Jonathan Maberry, NYT bestselling author of Rot and Ruin

"The heroine is feisty, family-oriented and adventure-prone."—RT Book Reviews

"Rain of the Ghosts is truly accessible for all ages...an engaging, intriguing story."—IGN.com

"Magical realism for all ages!" —Jonathan Frakes, Actor

"A superb builder of new worlds." —Nicole Dubuc