Vanguard (Genesis Fleet #1) (Hardcover)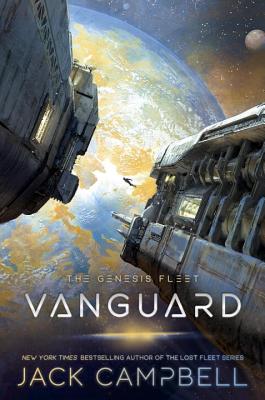 $27.00
Usually Ships in 1-5 Days
Staff Reviews
---
Campbell takes us back in time to before there was an Alliance … to witness its birth. Remember those ancestors, the living stars, that Black Jack and company often prayed (of sorts) to? Well, prepare to meet them. If you thought fighting and a war of attrition across centuries and light years, or battling enigmatic aliens, were problems, try herding cats across the Down and Out. Only these cats are corporations and pirates and the disenfranchised, oh my! It's the Old West on a galactic scale and not a marshal in sight. Those who would do good and who are just seeking a fresh start versus those who would capitalize on the extreme lack of accountability that interstellar distance makes possible. Campbell never fails to bring the story and I love every hero-filled moment of it.
Heard of Jack Campbell but are a bit too daunted to get lost in the previous fifteen (so far) books in the Black Jack Universe? Well, here's a great place to start … the beginning. Those of you who have read those earlier volumes will love meeting the ancestors.
— From
Patrick's Periodic Picks
Description
---
Jack Campbell returns to the world of the New York Times bestselling Lost Fleet novels with a new action-packed military science fiction series that explores the founding of the Alliance . . . and the men and women who fought to create it. Earth is no longer the center of the universe. After the invention of the faster-than-light jump drive, humanity is rapidly establishing new colonies. But the vast distances of space mean that the old order of protection and interstellar law offered by Earth has ceased to exist. When a nearby world attacks, the new colony of Glenlyon turns to Robert Geary, a young former junior fleet officer, and Mele Darcy, a onetime enlisted Marine. With nothing but improvised weapons and a few volunteers, Geary and Darcy must face down warships and armored soldiers--or die trying. As battles rage and pirates take an increasing toll throughout the colonies, the only hope for lasting peace lies with Carmen Ochoa, a "Red" from the anarchic world of Mars, and Lochan Nakamura, a failed politician. They have a plan: to lay the groundwork for mutual defense that could someday grow into an alliance. But if their efforts don't succeed, the growing power of aggressor worlds could turn regions of space founded on freedom into battlefields between the first interstellar empires...
the first interstellar empires...
About the Author
---
"Jack Campbell" is the pen name of John G. Hemry, a retired naval officer who graduated from the U.S. Naval Academy in Annapolis before serving with the surface fleet and in a variety of other assignments. He is the New York Times bestselling author of The Lost Fleet series and The Lost Stars series, as well as the Stark's War, Paul Sinclair, and Pillars of Reality series. He lives with his indomitable wife and three children in Maryland.