The Driver: A Thriller (Hardcover)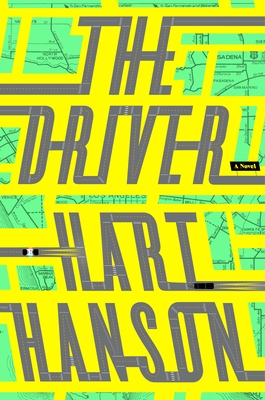 Staff Reviews
---
Michael Skellig was a military specialist of the "I'd tell you, but then I'd have to kill you" type. That life is now over. He now runs a limo service with a few other broken ex-military friends. When his latest client, hotshot skateboarder Bismarck Avila, becomes a target for assassination, Michael's skills kick in and he saves Avila's life — after which Avila blackmails Michael into being his driver/bodyguard. Meanwhile his lawyer/ex-girlfriend is trying to keep him out of jail, while his latest love interest is a cop that's investigating the attempted murder. Michael is caught in the middle and trying to stay above water. This book is fast paced and filled with danger, gruesome action and a sense of humor that will keep you turning the pages until the last bullets fly.
— From
Emilo Flores
Description
---
From the creator of the TV show Bones comes a "riveting, smart and funny" (Harlan Coben) debut thriller. 

"Everything a great thriller should be—always smart, often funny, and relentlessly exciting. I loved every page."—Scott Turow
 
Michael Skellig is a limo driver waiting for his client in the alley behind an upscale hotel. He's spent the past twenty-eight hours ferrying around Bismarck Avila, a celebrity skateboard mogul who isn't going home any time soon. Suddenly the wind begins to speak to Skellig in the guttural accent of the Chechen torturer he shot through the eye in Yemen a decade ago: Troubletroubletrouble. Skellig has heard these warnings before—he's an Army Special Forces sergeant whose limo company is staffed by a ragtag band of wounded veterans, including his Afghan interpreter—and he knows to listen carefully.

Skellig runs inside just in time to save Avila from two gunmen but too late for one of Avila's bodyguards—and wakes up hours later in the hospital, the only person of interest in custody for the murder. Complicating matters further is the appearance of Detective Delilah Groopman of the LAPD, gorgeous and brash, for whom Skellig has always held a candle. As for Avila? He's willing to help clear Skellig's name under one peculiar condition: that Skellig become Avila's personal chauffeur. A cushy gig for any driver, except for the fact that someone is clearly trying to kill Avila, and Skellig is literally the only person sitting between Avila and a bullet to the head.

"It is so hard to be unique in crime fiction and Hart Hanson has done it big time with The Driver. It's got all the ingredients: high risks, strong momentum, unseen turns and a set of gripping characters. You can't ask for more!" --Michael Connelly
 
"The Driver has it all—crisp dialogue, complex characters, and a plot that zips at breathtaking speed."—Kathy Reichs
 
"The Driver is grim, funny, violent, and moving—all on the same page."—T. Jefferson Parker
About the Author
---
Hart Hanson wrote for Canadian television before moving to Los Angeles, where he worked on various TV programs before creating the series Bones, the longest-running scripted hour-long series on the FOX network. Married with two sons, Hart lives with his wife, Brigitte, in Venice, California. The Driver is his first novel.
Praise For…
---
Praise for Hart Hanson and The Driver:

"Hanson's storytelling voice is off the charts: blunt, morbid, morally indignant and furiously funny." —The New York Times Book Review

"It is so hard to be unique in crime fiction and Hart Hanson has done it big time with The Driver. It's got all the ingredients: high risks, strong momentum, unseen turns and a set of gripping characters. You can't ask for more!"
—Michael Connelly

"An outstanding debut thriller. Readers of Scott Turow and Harlan Coben will appreciate the intricate plot and rich character development."
—Library Journal (starred review) 

"The Driver is an action-packed, humor-infused novel that doesn't disappoint. Hart Hanson's debut is chock full of eccentric characters, from soldiers with a cause to crooked cops to diva wannabes. This is a book that is sure to fly from the shelves to the bedside tables."
—The San Francisco Book Review

"The first chapter delivers an entertainment smack upside the head that will keep readers rapt to the story's end…. Wryly funny and whip-smart, Hanson's narrative seamlessly weaves in serious themes, pop culture and a bit of a love letter to Los Angeles."
—Shelf Awareness 

"[A] remarkable debut… The dialogue is crisp and street-tough, and the action redefines relentless. Expect lots of buzz for what is sure to be one of the season's hottest first novels."
—Booklist (starred review)

"Hanson, creator of the long-running TV series Bones, takes to crime fiction in high style. Like Carl Hiaasen, he shows great pleasure in combining nasty violence with an arch comic sensibility...[a] fresh-voiced first novel."
—Kirkus  

"Hanson, creator of the TV series Bones, melds well-placed bits of humor with a serious look at the emotional trials of returning veterans. The energetic plot demands a sequel."
—Publishers Weekly

"Riveting, smart, and funny, The Driver is a masterfully crafted debut. Michael Skellig is the hero we've been waiting for—a wry war veteran who doesn't take anything (or anyone) too seriously, even while staring down the face of a sawed-off shotgun."
—Harlan Coben

"Funny and smart"
—Dallas Morning News
 
"[A] hugely entertaining thriller…Infused with dark humor."
—The Oklahoman

"The Driver has it all—crisp dialogue, complex characters, anda plot that zips at breathtaking speed. I see the beginning of a great career in thriller fiction."
—Kathy Reichs 

"The Driver is packed with action…tightly plotted...The characters [are] sharply drawn and sympathetic (the heroes) or scary (the villains). Good or bad, they all come alive on the page." 
—St. Louis Post-Dispatch

"Page turner" 
—New York Post

"The Driver is everything a great thriller should be—always smart, often funny, and relentlessly exciting. The novel features imaginative mayhem from the first pages, a terrific twisting plot, and countless fresh elements, starting with its hip, witty, limo-driver hero, who deals with the eccentric world of high-profile skateboarding and the lingering sadness of many of our vets. I loved every page."
—Scott Turow
 
"Hart Hanson has given us a wonderful debut novel in The Driver. Former Army Special Forces Sergeant Michael Skellig runs a limousine service in Los Angeles, staffed by his hand-picked team of former war companions. Skellig and his people are living casualties of America's wars—damaged in different ways but clinging to their lives with determination, anger, and resourcefulness. Set in an LA of narcissistic celebrity, corrupt law enforcement, and limitless greed, The Driver is grim, funny, violent, and moving—all on the same page."
—T. Jefferson Parker, author of The Room of White Fire

"The Driver is smart, brash, and funny, with characters who strut right out of an Elmore Leonard novel.  For thrills, chills, and plenty of laughs, Hart Hanson is your man."
—Tess Gerritsen, New York Times bestselling author of I Know a Secret
 
"The ghost of Raymond Chandler is apparently alive and well and living inside Hart Hanson. I felt as though I was reading a 21st century reboot of The Long Goodbye. Brutal, gripping and funny. A dazzling debut."
—Charles Cumming