Haunted Nights (Paperback)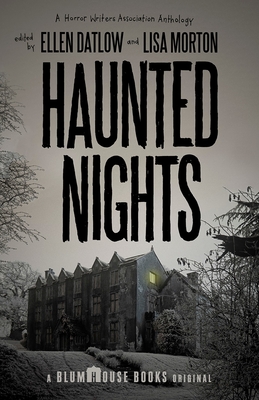 Description
---
Sixteen never-before-published chilling tales that explore every aspect of our darkest holiday, Halloween, co-edited by Ellen Datlow, one of the most successful and respected genre editors, and Lisa Morton, a leading authority on Halloween. In addition to stories about scheming jack-o'-lanterns, vengeful ghosts, otherworldly changelings, disturbingly realistic haunted attractions, masks that cover terrifying faces, murderous urban legends, parties gone bad, cult Halloween movies, and trick or treating in the future, Haunted Nights also offers terrifying and mind-bending explorations of related holidays like All Souls' Day, Dia de los Muertos, and Devil's Night. "With Graveyard Weeds and Wolfbane Seeds" by Seanan McGuire
"Dirtmouth" by Stephen Graham Jones"
"A Small Taste of the Old Countr" by Jonathan Maberry
"Wick's End" by Joanna Parypinski
"The Seventeen Year Itch" by Garth Nix
"A Flicker of Light on Devil's Night" by Kate Jonez
"Witch-Hazel" by Jeffrey Ford
"Nos Galen Gaeaf" by Kelley Armstrong
"We're Never Inviting Amber Again" by S. P. Miskowski
"Sisters" by Brian Evenson
"All Through the Night" by Elise Forier Edie
"A Kingdom of Sugar Skulls and Marigolds" by Eric J. Guignard
"The Turn" by Paul Kane
"Jack" by Pat Cadigan
"Lost in the Dark" by John Langan
"The First Lunar Halloween" by John R. Little.
About the Author
---
Ellen Datlow has been editing science fiction, fantasy, and horror short fiction for over thirty-five years. She currently acquires short fiction for Tor.com. In addition, she has edited more than fifty anthologies, including The Best Horror of the Year series, Fearful Symmetries, The Doll Collection, The Monstrous, and Black Feathers. A multiple award-winner for her work, Datlow is a recipient of the Karl Edward Wagner Award, given at the British Fantasy Convention for "outstanding contribution to the genre," and has been honored with Life Achievement Awards by both the Horror Writers Association and the World Fantasy Convention. She lives in New York and co-hosts the monthly Fantastic Fiction Reading Series at KGB Bar. More information can be found at www.datlow.com, on Facebook, and on twitter as @EllenDatlow. Lisa Morton is a screenwriter, author of non-fiction books, Bram Stoker Award-winning prose writer, editor, and Halloween expert whose work was described by the American Library Association's Readers' Advisory Guide to Horror as "consistently dark, unsettling, and frightening." As a Halloween expert, she has appeared on The History Channel and BBC Radio and in the pages of Real Simple Magazine and The Wall Street Journal, and she served as consultant on the first official U.S. Postal Halloween stamps. Her most recent releases include Ghosts: A Haunted History and Cemetery Dance Select: Lisa Morton. She lives in the San Fernando Valley, and can be found online at www.lisamorton.com.