Thrawn (Star Wars) (Mass Market Paperbound)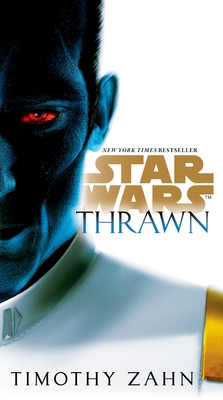 Staff Reviews
---
In the years preceding the Battle of Yavin, the Empire was at the height of it's power. Imperial officers scramble for power through cunning and manipulation. It's amidst this turmoil that we meet Thrawn, a Chiss warrior from the Unknown Regions of space. Exiled from his militaristic homeworld for radical thinking, he turns out to be a powerful tool for the Emperor. With the help of his translator, Eli Vanto, and the up-and-coming Arihnda Price, Thrawn quickly moves up the political ladder, securing his place as one of the most powerful people in the galaxy.
As a fan of Timothy Zahn's original Thrawn trilogy, and the animated series Star Wars: Rebels, this book does an incredible job of showing the Chiss warrior's brilliance and ruthlessness. Despite being a Rebel at heart, this book had me rooting for the rise of an Imperial Officer and cheering as he coolly dispached any opposition.
-Gary
— From
Gary's Picks!
Description
---
NEW YORK TIMES BESTSELLER - In this definitive novel, readers will follow Thrawn's rise to power--uncovering the events that created one of the most iconic villains in Star Wars history. One of the most cunning and ruthless warriors in the history of the Galactic Empire, Grand Admiral Thrawn is also one of the most captivating characters in the Star Wars universe, from his introduction in bestselling author Timothy Zahn's classic Heir to the Empire through his continuing adventures in Dark Force Rising, The Last Command, and beyond. But Thrawn's origins and the story of his rise in the Imperial ranks have remained mysterious. Now, in Star Wars: Thrawn, Timothy Zahn chronicles the fateful events that launched the blue-skinned, red-eyed master of military strategy and lethal warfare into the highest realms of power--and infamy. Praise for Thrawn "The origin story of one of the greatest Star Wars villains . . . a book that fans have wanted for decades."--The Verge "A satisfying tale of political intrigue . . . Thrawn's observations and tactical thinking are utterly captivating."--New York Daily News "Quite the page-turner."--Flickering Myth
About the Author
---
Timothy Zahn is the author of more than forty novels, nearly ninety short stories and novellas, and four short-fiction collections. In 1984, he won the Hugo Award for Best Novella. Zahn is best known for his Star Wars novels (Heir to the Empire, Dark Force Rising, The Last Command, Specter of the Past, Vision of the Future, Survivor's Quest, Outbound Flight, Allegiance, Choices of One, and Scoundrels), with more than four million copies of his books in print. Other books include the Cobra series, the Quadrail series, and the young adult Dragonback series. Zahn has a B.S. in physics from Michigan State University and an M.S. from the University of Illinois. He lives with his family on the Oregon coast.