A Curious Invasion (Paperback)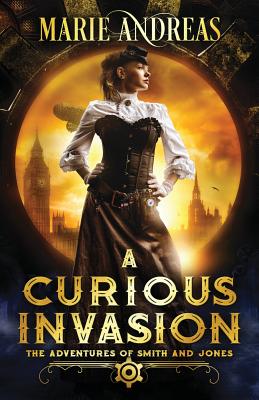 $17.25
Usually Ships in 1-5 Days
Description
---
In an Alternative Victorian London, England has a new queen--she just happens to be undead.

Dr. Nettie Jones is a new agent for The Society for the Exploration of the Unexplainable, a secret organization protecting England from unnamed sources. Being half-vampire is an added complication.

The Society doesn't yet appreciate Nettie but fate steps in when invaders from a dying planet begin following her the same day Queen Victoria chooses to be turned into a vampire.

Things become dangerously interwoven when Nettie discovers that a supposed accident was in fact an act of betrayal by one of the agents of the Society. The first shot in a larger conspiracy

Nettie and her fellow Society agents must pull together to thwart the alien invaders, fight off the vampire infestation, and rescue the Queen from becoming the longest ruling undead monarch, even if that rescue is against her will.
About the Author
---
Marie is a fantasy and science fiction reader with a serious writing addiction. If she wasn't writing about all of the people in her head, she'd be lurking about coffee shops annoying innocent passer-by with her stories. So really, writing is a way of saving the masses. She lives in Southern California and is currently owned by two very faery-minded cats. And yes, sometimes they race. When not saving the general populace from coffee shop shenanigans, Marie likes to visit the UK and keeps hoping someone will give her a nice summer home in the Forest of Dean.