Damsel in Dis Mess: Girlie Antics and Other Shenanigans (Paperback)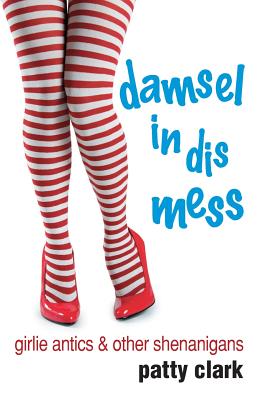 Description
---
Patty Clark has a knack for seeing the humor in the hum-drum and finding entertainment and personal growth in life's messes. Her screwball short essays are a self-help program in disguise: let the Damsel teach you how to make marmalade out of rotting lemon rinds rescued from the compost heap. You'll snort and bray with laughter as her off-kilter references to uniquely American pop icons slam straight into your funny bone. So take my advice: read one story a day and let the Damsel keep the doctor at bay.
Praise for the Damsel:
..". Her humorous stream-of-consciousness style on down-to-earth, everyday topics will remind you of the late Erma Bombeck... A unique perspective on life in suburban America..." --Peter J. Cook, Publisher of The Parson's Sun newspaper, Kansas
..". Witty and self-deprecating prose... Patty's columns are always warmly anticipated and received because everyone can use a little levity in their lives..." --Joe Moris, Peace Columnist for the Coast News, Encinitas, California
..". These stories left me with a wonderful sense of freedom that one is not alone or completely crazy... She takes ordinary experiences to a higher level of awareness... Thought-provoking with a twist of intellectual humor... Each experience Patty puts into words... only leaves one grasping for more." --Penny Rothschild, Owner/Curator of Emerald C Gallery and Ruby P Gallery, Coronado, California
"I have been a follower of Patty's writing for years... She's truly a pleasure to read." --Marta Chausee, Author of Murder's Last Resort
"Patty Clark... transforms everyday vicissitudes into missiles of dissimilar similes and relevant irreverence... good snarky-humor fun." --Russell Shor, Gemological Institute of America, Inc.
"You will find curiously soothing and jarring parallels to absolutely everything that is within your daily meanderings. There ain't no stress in dis mess." --Ed Coonce, President and Creative Director of Theatre Arts West, Encinitas, California
"Get ready to laugh and cry " --Katana Abbott, CFP, Life and Legacy Coach and Host of Smart Women Talk Radio
About the Author
---
My goal in life: To send smiles across America! Maternal adviser, artiste, proficient hand letterer and calligrapher, cosmo connoisseur, dandelion warrior, and paraprosdokian (before you dash for the dictionary, it means "against expectation"). Empowered by a quirkiness of wit through wisdom when insomnithusiastically writing silly stories. I reside in northern San Diego County which is somewhere west of Michigan, my home state. Without the inspiration from earth angels in forms of family, friends, and friendly strangers, I would not have kept the crackpot in me alive while penning this ticklish type of hyperbole humor. The only real sense I derive from being alive is the sense of humor. Idols include otherwits: Betty White, Ellen DeGeneres, Erma Bombeck, Jane Lynch, Barney Fife, James Corden, and Paul Lynde. My biggest supporters: My writers groups and Belly Bandit torso shapewear Columnist for The Parson's Sun newspaper in Kansas, weekend editions, 2013 through 2014 Six-time contest winner with HumorPress.com Visit my blog: www.damselindismess.com