Chyrsalides, Oh Hell Volume 1 Hell (Paperback)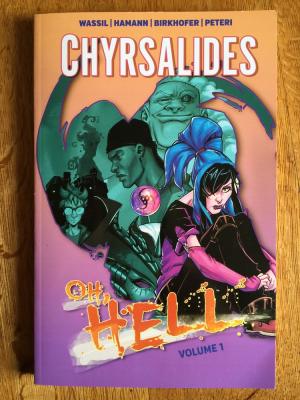 Description
---
Angela begins life as a dumpster baby. Fifteen years later she returns home with a new name, ZOEL, tattooed across her throat and her adoptive parents ship her off to boarding school.
On her first day at the Academy, Zoel meets and soon falls for Zipper, seventeen, African-American presumptive bad boy; makes an enemy of Alesse, the very attractive, very popular, very manipulative mean girl; angers Elz the short-tempered Headmaster; and learns that the school is actually in Hell and it's pass/fail.
To pass, students gather souls for Satan, damn them and in return become more demonic and powerful. Those that fail are thrown into the Pit to spend eternity in Hell's fire. Zoel and Zipper must each decide what they are willing to sacrifice in order to save the soul of the other.

About the Author
---
Twenty plus years ago Wassil came across a Matt Groening cartoon depicting a tombstone with the engraving "Would you mind reading my screenplay?" He's that guy. He's had eight screenplays optioned, all of which resulted in no movies, no agent, no manager, the promise of money, a little money, a little more money and yes, even the proverbial bad check. Oh Hell began as an assignment for a UCLA Extension class. Kickstarter funding made publication possible. A second Kickstarter project is being developed to fund the second volume. Wassil is presently writing a fantasy novel expected to be completed soon.