Green Rider (Mass Market Paperbound)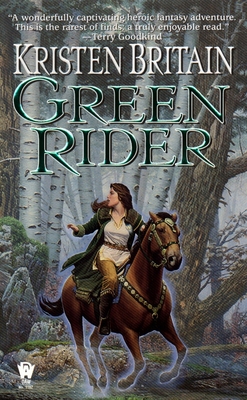 Staff Reviews
---
"Karigan G'ladheon is on her way home from a fight at school when the thundering of hooves fills the forest. A messenger of the king, a Green Rider, comes to a  halt in front of her only to slide off his horse with a bloody arrow sticking out of his back. With his last dying breath, he urges Karigan to complete his mission. Reluctantly she agrees, finding herself compelled to help him.
The dead Rider's horse guides her down a path only he knows, pulling her into a world of unknown magic and danger thought long dead. With a hooded figure and mercenaries hunting her through the woods, it will take everything she has to survive let alone deliver the message worth dying for. From start to finish I couldn't help turning the pages of this story filled with engaging characters and a unique world that captures the heart. When I had finished, all I wanted was to start at the beginning again and delve back into Britain's world. This is one of my absolute favorite books and a must read for fantasy lovers."
— From Constance's Collection
Description
---
Magic, danger, and adventure abound for messenger Karigan G'ladheon in author Kristen Britain's New York Times-bestselling Green Rider fantasy series - "First-rate fantasy." --Library Journal On her long journey home from school after a fight that will surely lead to her expulsion, Karigan G'ladheon ponders her uncertain future. As she trudges through the immense Green Cloak forest, her thoughts are interrupted by the clattering of hooves, as a galloping horse bursts from the woods. The rider is slumped over his mount's neck, impaled by two black-shafted arrows. As the young man lies dying on the road, he tells Karigan he is a Green Rider, one of the legendary messengers of the king of Sacoridia. Before he dies, he begs Karigan to deliver the "life and death" message he bears to King Zachary. When she reluctantly he agrees, he makes her swear on his sword to complete his mission, whispering with his dying breath, "Beware the shadow man...." Taking on the golden-winged horse brooch that is the symbol of the Green Riders, Karigan is swept into a world of deadly danger and complex magic, her life forever changed. Compelled by forces she cannot understand, Karigan is accompanied by the silent specter of the fallen messenger and hounded by dark beings bent on seeing that the message, and its reluctant carrier, never reach their destination.
About the Author
---
Kristen Britain is the author of the New York Times-bestselling Green Rider series. She lives in an adobe house in the high desert of the American Southwest beneath the big sky and among lizards, hummingbirds, and tumbleweeds. Kristen can be found online at kristenbritain.com.
Praise For…
---
"A wonderfully captivating heroic fantasy adventure. This is the rarest of finds: a truly enjoyable read." —Terry Goodkind

"A fresh, well-organized fantasy debut, with a spirited heroine and a reliable supporting cast." —Kirkus

"The author's skill at world building and her feel for dramatic storytelling make this first-rate fantasy a good choice." —Library Journal

"Britain keeps the excitement high from beginning to end, balancing epic magical battles with the humor and camaraderie of Karigan and her fellow riders." —Publishers Weekly