Rattle (Mass Market Paperbound)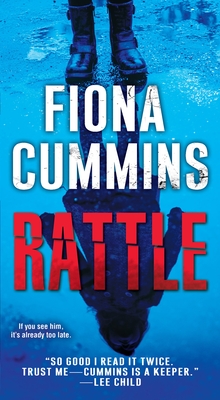 $9.99
Usually Ships in 1-5 Days
Staff Reviews
---
If you are in the mood for a bizarre, terrifying, and over-the-top experience, you must read this haunting debut. A third-generation psychopath is living in London searching out victims with bone abnormalities with the purpose of adding them to his "museum." Like his grandfather and father before him, he kills, skins and meticulously preserves the skeletons of his victims and displays them in his secret space. The disappearance of two medically-challenged children draws the attention of Detective Sergeant Etta Fitzroy, who relates the situation to a cold case child abduction that has plagued her for a year. As Fitzroy and authorities intensify their search, the "Bone Collector," as he thinks of himself, enjoys the hunt and taunts them with clues and his morbid signature calling card. The tender compassion for disabled children, the insane violence of a crazed killer and the excitement of the chase form an emotional roller coaster that readers of this debut novel are not soon to forget.
— From
Bunny's Books
Description
---
Fiona Cummins delves into the seam of darkness that runs through us all as a detective hunts down a twisted killer with a macabre obsession . . .

On still nights, when the curve of a winter moon is smudged in the flow of the River Quaggy, the dead clamor for him. And sometimes he coaxes the living to join them. To other people, his victims might be mere medical oddities. To him, they are fascinating specimens, worthy of display. Above all, he is a collector, eager for recognition even as he hides in the shadows. Detective Sergeant Etta Fitzroy is the first to recognize the connection between the disappearance of a young girl and a cold case that almost cost her the career she's sacrificed so much for. A faceless psychopath is walking the streets of London, tantalizing the authorities with clues, taunting them with his ability to spirit his victims out from under their very noses. Better than anyone, Etta Fitzroy understands loss. But this is one contest she will win if it kills her . . .

"A gem of a scary debut."
--The Times

"A thriller that is capable of keeping you up all night--and then haunting your dreams."
--Daily Mail

"A terrific read "
--Val McDermid

"As heartrending as it is gripping."
--Crime Scene
About the Author
---
FIONA CUMMINS is a graduate of the prestigious Faber Academy in London and an award-winning journalist. She spent twelve years at Britain's Daily Mirror newspaper as its chief showbiz reporter, interviewing celebrities from Michael Jackson to George Clooney. She was named Showbusiness Reporter of the Year at the British Press Awards in 2007, and has been nominated four times. Now freelance, her work has appeared in numerous UK publications, as well as appearing on several national TV programs. She lives in Essex with her husband and two children.