Taste of Marrow (River of Teeth #2) (Paperback)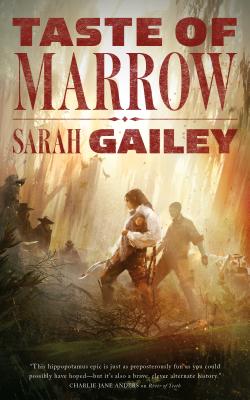 Staff Reviews
---
The Best New Series Featuring Hippo Wranglers — River of Teeth and Taste of Marrow by Sarah Gailey feature an alternate 1890's America where feral hippos have run amok in the bayous and professional hippo wranglers (riding their tame hippos) chase the very dangerous animals down. Think of a relationship between human and horse.
— Linda
Description
---
Campbell finalist Sarah Gailey's hippo mayhem continues in Taste of Marrow, the sequel to rollicking adventure River of Teeth.
A few months ago, Winslow Houndstooth put together the damnedest crew of outlaws, assassins, cons, and saboteurs on either side of the Harriet for a history-changing caper. Together they conspired to blow the dam that choked the Mississippi and funnel the hordes of feral hippos contained within downriver, to finally give America back its greatest waterway.
Songs are sung of their exploits, many with a haunting refrain: "And not a soul escaped alive."
In the aftermath of the Harriet catastrophe, that crew has scattered to the winds. Some hunt the missing lovers they refuse to believe have died. Others band together to protect a precious infant and a peaceful future. All of them struggle with who they've become after a long life of theft, murder, deception, and general disinterest in the strictures of the law.
About the Author
---
Hugo and Campbell finalist SARAH GAILEY came onto the scene in 2015 and has since become one of the sharpest, funniest voices in pop culture online. They are a regular contributor for multiple websites, including Tor.com. Their nonfiction has appeared in Mashable and The Boston Globe, and their fiction has been published internationally. They are the author of River of Teeth and Taste of Marrow. They live in Oakland, California.