Passing Strange (Paperback)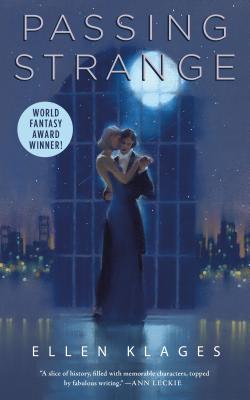 Staff Reviews
---
The setting for the story is as much a part of the tale as the characters. The author's research of 1940's San Francisco has you walking the streets of Chinatown, and ferrying to the Golden Gate International Exposition. The lead characters are all women--artistic, smart, resourceful and gay. The story begins with the final days of the last surviving member of the circle and the mystery surrounding a heretofore unknown artwork. How and why the artwork comes to be is the magic and the mystery. I enjoyed the story for its interesting characters, the glimpse into the artistic world of Pulp Fiction magazine art. The ending is left for the reader to draw their own conclusion. Mine was hopeful.
— From
Christine's Choices
Description
---
Inspired by the pulps, film noir, and screwball comedy, Passing Strange is a story as unusual and complex as San Francisco itself from World Fantasy Award winning author Ellen Klages, and a finalist for the 2017 Nebula Award for Best Novella

San Francisco in 1940 is a haven for the unconventional. Tourists flock to the cities within the city: the Magic City of the World's Fair on an island created of artifice and illusion; the forbidden city of Chinatown, a separate, alien world of exotic food and nightclubs that offer "authentic" experiences, straight from the pages of the pulps; and the twilight world of forbidden love, where outcasts from conventional society can meet.
Six women find their lives as tangled with each other's as they are with the city they call home. They discover love and danger on the borders where magic, science, and art intersect.
About the Author
---
ELLEN KLAGES is the author of two acclaimed historical novels: The Green Glass Sea, which won the Scott O'Dell Award, and the New Mexico Book Award; and White Sands, Red Menace, which won the California and New Mexico Book awards. Her story, "Basement Magic," won a Nebula Award and "Wakulla Springs," co-authored with Andy Duncan, was nominated for the Nebula, Hugo, and Locus awards, and won the World Fantasy Award for Best Novella. She lives in San Francisco, in a small house full of strange and wondrous things.