Stranded (Hardcover)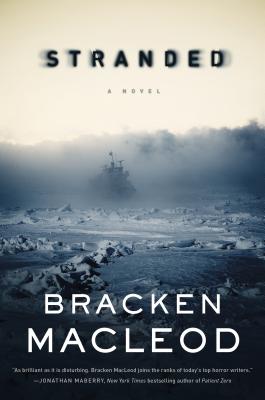 $27.49
Usually Ships in 1-5 Days
Staff Reviews
---
STRANDED by Bracken MacLeod
The chills cut through you like daggers of ice in Bracken MacLeod's STRANDED, a brilliant tale of Arctic horror with echoes of John Carpenter's The Thing and the historical tragedy of the H.M.S. Terror. What starts off as a survival thriller veers into nightmare territory as Noah Cabot, deckhand of the Arctic Promise, watches his crewmates succumb to a bizarre illness after a storm sends the ship into a preternatural fog. Ice locks in the ship and paranoia grips the crew, who soon begin to see things that shall not be revealed. Noah and the strongest of the crew head across the ice, after they catch sight of a structure in the distance. They pray their trek through the frozen waste will lead to their rescue, but what they find is a puzzle as dreadful as their secret selves, with a signpost up ahead -- "this way lies madness." –R.J. Crowther Jr.
— From
Rob Crowther
Description
---
In the spirit of John Carpenter's The Thing and Jacob's Ladder comes Stranded -- a terrifying, icebound thriller where nothing is quite what it seems by Bracken MacLeod.
Badly battered by an apocalyptic storm, the crew of the Arctic Promise find themselves in increasingly dire circumstances as they sail blindly into unfamiliar waters and an ominously thickening fog. Without functioning navigation or communication equipment, they are lost and completely alone. One by one, the men fall prey to a mysterious illness. Deckhand Noah Cabot is the only person unaffected by the strange force plaguing the ship and her crew, which does little to ease their growing distrust of him.
Dismissing Noah's warnings of worsening conditions, the captain of the ship presses on until the sea freezes into ice and they can go no farther. When the men are ordered overboard in an attempt to break the ship free by hand, the fog clears, revealing a faint shape in the distance that may or may not be their destination. Noah leads the last of the able-bodied crew on a journey across the ice and into an uncertain future where they must fight for their lives against the elements, the ghosts of the past and, ultimately, themselves.
About the Author
---
BRACKEN MACLEOD is the author of Mountain Home and White Knight. His short fiction has appeared in magazines and anthologies, including, Shock Totem, LampLight, ThugLit, and Splatterpunk. He has worked as a trial attorney, philosophy instructor, and martial arts teacher. He lives in New England with his wife and son, where he is at work on his next novel.