Kushiel's Dart (Kushiel's Legacy #1) (Paperback)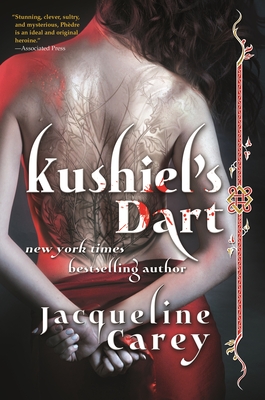 $19.99
Usually Ships in 1-5 Days
Description
---
"When Love cast me out, it was Cruelty who took pity on me."
In a kingdom born of angels, Phedre is an anguisette, cursed or blessed to find pleasure in pain. Sold to the Court of Night Blooming Flowers, her fate as a beautiful but anonymous courtesan was sealed. Her bond was purchased by the nobleman Anafiel Delauney, who recognized the scarlet mote in Phedre's eye as the rare mark of one touched by a powerful deity. Under Delauney's patronage she is trained in history, politics, language, and the use of body and mind as the ultimate weapon of subterfuge in a dangerous game of courtly intrigue.
Guided into the bed chambers of Terre D'Ange's most influential nobles, Phedre uncovers a conspiracy against the throne so vast that even her teacher cannot see the whole of it. As her nation is besieged by invading hordes from the north, the most unthinkable threat to her beloved home comes from traitors within. Betrayed and blindsided by her own longings, only Phedre and her trusted bodyguard Josselin are left to cross borders and warring armies in a race to stop the final blow from falling.
Enter a lush world of pleasure houses, ambitious warlords, scheming courtiers, and the harsh justice of blessed deities through the eyes of a heroine like no other. Sprawling and darkly sensual, Jacqueline Carey's Kushiel's Dart is the start of a truly original fantasy series.
About the Author
---
Born in 1964, Jacqueline Carey was an avid reader since early childhood. She began writing in high school, not realizing her hobby would become a permanent vocation. After receiving B.A. degrees in psychology and English literature from Lake Forest College, she spent time living in London and working in a bookstore, then traveling throughout Europe. While living abroad, the desire to become a professional novelist emerged as a driving passion. Upon returning she embarked in earnest on a writing career, which came to fruition some ten years later. During this time, she worked at the art center of an area college, gaining a strong background in the visual arts. This, along with her early studies in literature and psychology informs her work, as does a lifelong interest in mythology. She enjoys doing research on a wide variety of arcane topics, and an affinity for travel has taken her from Finland to Egypt to date. Although often asked by inquiring fans, she does not, in fact, have any tattoos.Jacqueline currently resides in west Michigan, where she is a founding member of the oldest Mardi Gras krewe in the state. She is the author of the critically acclaimed Kushiel's Legacy fantasy trilogy, including Kushiel's Dart, which received the Locus Award for Best First Novel and the Romantic Times Reviewer's Choice Award for Best Fantasy in 2001. Other previous publications include a nonfiction book, various essays and short stories.