Kushiel's Avatar (Kushiel's Legacy #3) (Paperback)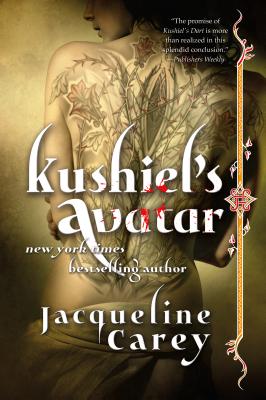 List Price: $19.99
Our Price: $18.99
(Save: $1.00 5%)
Description
---
A decade of peace has passed in Terre D'Ange, the country founded by the god Elua. Since the world's most famous courtesan saved her queen from assassination, Ph dre n? Delauny has been enjoying a quiet life until a prophetic dream calls upon her to serve her gods one last time.
But what they ask may be too painful for even an anguissettte to bear.
When the young son of the traitor Melisande Shahrizai--Imriel de la Courcel, who stands third in line for the crown--is kidnapped, Ph dre enters an uneasy bargain to find the boy in exchange for the information that will free her beloved childhood friend Hyacinthe from his eternal imprisonment as the new Master of the Straits. When it becomes clear that Imriel's disappearance is part of a larger, far darker scheme, Ph dre knows it is her sacred duty to end it.
At her side is her loving consort Josselin, who will also risk losing himself in Ph dre's gamble to rescue Imriel and save her country from a spreading darkness. And beyond her doubt, her fear, dangles the promise of a holy mystery so great that it could transform Ph dre into justice incarnate... or consume her in the flames of her own passion. All of Ph dre's journeys have led here, to the grandest of conclusions in an epic tale of
fantasy, adventure, and, above all, love.
Kushiel's Avatar is the stunning conclusion to Jacqueline Carey's epic trilogy.
About the Author
---
JACQUELINE CAREY is the bestselling author of the critically acclaimed Kushiel's Legacy series. A former a researcher in art history, Carey currently lives in west Michigan, where she is a member of the oldest Mardi Gras krewe in the state. Although often asked by inquiring fans, she does not, in fact, have any tattoos.