Updraft (Bone Universe #1) (Paperback)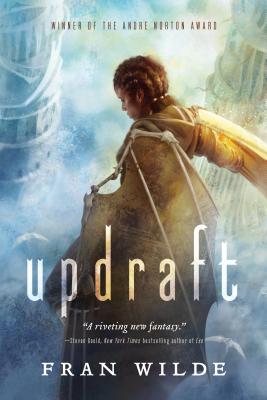 Description
---
From Fran Wilde comes Updraft, the Nebula finalist and Andre Norton Award-winning first novel in the Bone Universe saga
Welcome to a world of wind and bone, songs and silence, betrayal and courage.
Kirit Densira cannot wait to pass her wingtest and begin flying as a trader by her mother's side, being in service to her beloved home tower and exploring the skies beyond. When Kirit inadvertently breaks Tower Law, the city's secretive governing body, the Singers, demand that she become one of them instead. In an attempt to save her family from greater censure, Kirit must give up her dreams to throw herself into the dangerous training at the Spire, the tallest, most forbidding tower, deep at the heart of the City.
As she grows in knowledge and power, she starts to uncover the depths of Spire secrets. Kirit begins to doubt her world and its unassailable Laws, setting in motion a chain of events that will lead to a haunting choice, and may well change the city forever--if it isn't destroyed outright.
Bone Universe
1) Updraft
2) Cloudbound
3) Horizon (September 2017)
About the Author
---
FRAN WILDE is an author and technology consultant. In 2015, her first novel, Updraft, accomplished the rare feat of winning the Andre Norton Award for Best Young Adult Science Fiction and Fantasy while also being nominated for the Best Novel Nebula Award. Her short stories have appeared in Asimov's Nature and Beneath Ceaseless Skies. Wilde also blogs about food and genre at Cooking the Books (franwilde.wordpress.com/cooking-the-books) and for the popular social-parenting website GeekMom. She lives in Pennsylvania with her family.