The Six-Gun Tarot (Golgotha #1) (Mass Market Paperbound)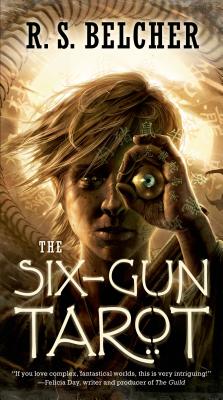 Staff Reviews
---
This brilliant debut novel is a western fantasy that turns on steampunk cogs greased with lots of grue. We ride into the story with fifteen-year-old Jim, who carries the eye of his dead father in his pocket –a jade prosthetic crafted by Chinese sorcery. Jim and his horse nearly die as they ride across the desert, but are rescued by Mutt, a Native American shape-shifter. Mutt leads them to the mining town of Golgotha, where a Lovecraftian god is rising to undo creation (with a little help from a certain fallen angel). Joining the battle to save the world are an undying sheriff who was hanged three times and has the scars to prove it, a woman with the blood of Lilith in a vial around her neck, a Mormon minister with an "unnatural" secret, and a taxidermist who knows death far too intimately. Every chapter is named after a Tarot card which, when interpreted, informs the narrative. I'm putting all my chips on The Six-Gun Tarot making the short list for the World Fantasy Award.
--R.J. Crowther Jr.
— Rob Crowther
Description
---
Six-Gun Tarot is the first book in the twisted weird west world of the Golgotha series by R.S. Belcher.
Nevada, 1869: Beyond the pitiless 40-Mile Desert lies Golgotha, a cattle town that hides more than its share of unnatural secrets. The sheriff bears the mark of the noose around his neck; some say he is a dead man whose time has not yet come. His half-human deputy is kin to coyotes. The mayor guards a hoard of mythical treasures. A banker's wife belongs to a secret order of assassins. And a shady saloon owner, whose fingers are in everyone's business, may know more about the town's true origins than he's letting on.
A haven for the blessed and the damned, Golgotha has known many strange events, but nothing like the primordial darkness stirring in the abandoned silver mine overlooking the town. Bleeding midnight, an ancient evil is spilling into the world, and unless the sheriff and his posse can saddle up in time, Golgotha will have seen its last dawn...and so will all of Creation.
R.S. Belcher's The Six-Gun Tarot is "an astonishing blend of first-rate steampunk fantasy and Western adventure." (Library Journal, Starred Review)
Other Books by R.S. Belcher:
The Golgotha Series
The Six-Gun Tarot
The Shotgun Arcana
Nightwise
The Brotherhood of the Wheel
This edition of the book is the deluxe, tall rack mass market paperback.
About the Author
---
ROD BELCHER won the Grand Prize in the Strange New Worlds SF-writing contest. He runs Cosmic Castle, a comic book shop in Roanoke, Virginia. The Six-Gun Tarot is his first novel.