Fudoki (Paperback)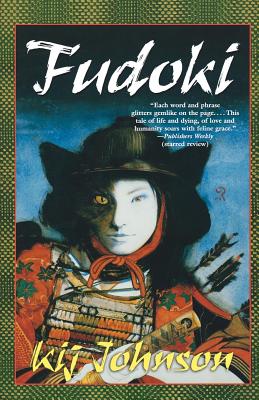 $22.99
Usually Ships in 1-5 Days
Description
---
Enter the world of Kagaya-hime, a sometime woman warrior, occasional philosopher, and reluctant confidante to noblemen--who may or may not be a figment of the imagination of an aging empress who is embarking on the last journey of her life, setting aside the trappings of court life and reminiscing on the paths that lead her to death.
For she is a being who started her journey on the kami, the spirit road, as a humble tortoiseshell feline. Her family was destroyed by a fire that decimated most of the Imperial city, and this loss renders her taleless, the only one left alive to pass on such stories as The Cat Born the Year the Star Fell, The Cat with a Litter of Ten, and The Fire-Tailed Cat. Without her fudoki--self and soul and home and shrine--she alone cannot keep the power of her clan together. And she cannot join another fudoki, because although she might be able to win a place within another clan, to do so would mean that she would cease to be herself.
So a small cat begins an extraordinary journey. Along the way she will attract the attention of old and ancient powers. Gods who are curious about this creature newly come to Japan's shores, and who choose to give the tortoiseshell a human shape.
About the Author
---
Kij Johnson is the author of several novels, including The Fox Woman and Fudoki. Her short fiction has sold to Amazing Stories, Analog, Asimov's, Duelist Magazine, Fantasy & Science Fiction, and Realms of Fantasy. She won the Theodore A. Sturgeon award for the best short story of 1994 for her novelette in Asimov's, "Fox Magic." In 2001, she won the International Association for the Fantastic in the Art's Crawford Award for best new fantasy novelist of the year.She taught writing and science-fiction writing at Louisiana State University and at the University of Kansas, and has lectured on creativity and writing at bookstores and businesses across the country. Since 1994, she has assisted at the Writer's Workshop for Science Fiction, hosted by the Center for the Study of Science Fiction at the University of Kansas. Since 1999, she has taught a series of writing seminars at the GenCon Game Fair.In the past ten years, she has worked as managing editor at Tor Books; collections and special editions editor for Dark Horse Comics; editor, continuity manager and creative director for Wizards of the Coast; and as a program manager on the Microsoft Reader. She has also run chain and independent bookstores, worked as a radio announcer and engineer, edited cryptic crosswords, and waitressed in a strip bar. She lives in Lawrence, Kansas, with her husband, writer Chris McKitterick, a dog and two cats.