The Uncommoners #1: The Crooked Sixpence (Hardcover)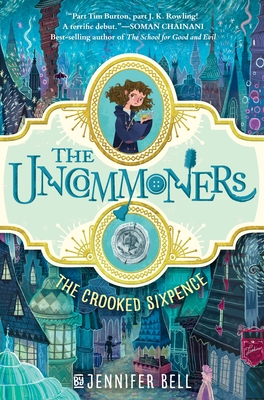 Staff Reviews
---
Kid Pick for Febuary 2017!
Welcome to the world of Lundinor, a strange and wonderful marketplace hidden beneath London where uncommon items hold extraordinary magic. Here there are candles that make you invisible, yo-yos that turn into weapons, belts that enable you to fly…the more uncommon, the more magical! When young Ivy and her brother Seb find themselves in this mysterious world, they must use uncommon objects of the everyday world to fight off those who are after them. Along the way they must navigate their own relationship and a slew of long held family secrets. Jennifer Bell, a children's bookseller in London herself, has written a charming and imaginative book, perfect for early fans of Neil Gaiman and lovers of magic!
— From
Kelly's Kid Picks
Description
---
Anyone with a Hogwarts-shaped hole in their lives can't miss this fantasy series opener. Dive into a secret underground city below London where ordinary objects are capable of extraordinary magic

"Part Tim Burton, part J.K. Rowling A terrific debut." --Soman Chainani, New York Times Bestselling Author of the School for Good and Evil series

Welcome to a world where nothing is quite as it seems...

When their grandmother Sylvie is rushed to the hospital, Ivy Sparrow and her annoying big brother Seb cannot imagine what adventure lies in store. Soon their house is ransacked by unknown intruders, and a very strange policeman turns up on the scene, determined to apprehend them . . . with a toilet brush. Ivy and Seb make their escape only to find themselves in a completely uncommon world, a secret underground city called Lundinor where ordinary objects have amazing powers. There are belts that enable the wearer to fly, yo-yos that turn into weapons, buttons with healing properties, and other enchanted objects capable of very unusual feats. But the forces of evil are closing in fast, and when Ivy and Seb learn that their family is connected to one of the greatest uncommon treasures of all time, they must race to unearth the treasure and get to the bottom of a family secret . . . before it's too late. Debut novelist Jennifer Bell delivers a world of wonder and whimsy in the start of a richly uncommon series. "An auspicious trilogy opener." -Kirkus Reviews
About the Author
---
Londoner Jennifer Bell began working in children's books as a specialist bookseller at Foyles, Charing Cross Road, one of the world's most famous bookstores. After having the privilege of listening to children talk about their favorite books for many years, she started writing a book of her own on her lunch breaks. You can follow Jennifer on Twitter at @jenrosebell.