Freedom's Child (Paperback)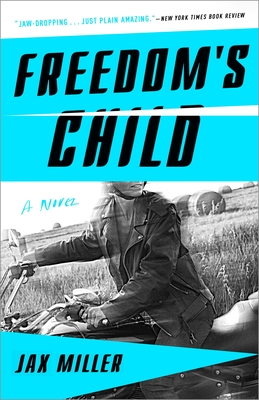 $17.60
Usually Ships in 1-5 Days
Staff Reviews
---
Upon first meeting Freedom Oliver, I was convinced I would not like this brash, drunken, tough-as-nails woman working in a small town Oregon biker bar. Surprise! Still waters run deep and Freedom is a bottomless well. Placed into a witness protection program after killing her husband, a cop, she puts her kids up for adoption, thinking they will have a chance at a better life. However, it's tough to choose which family is the most loathsome, her dead husband's sadistic family unit or the adoptive parents who seem to be part of a bizarre religious cult. When Freedom discovers that her daughter has gone missing, she loses her handlers and heads back to Kentucky, where her daughter was raised. Freedom seeks redemption, some kind of release from her internal demons. She misses her kids so much she becomes physically ill, fights depression, has a group of miscreant relatives out for revenge, and gets some unexpected help from an Oregon lawman. Freedom's Child is for those who like fast-paced chase novels with flawed characters, likable despite their faults.
— From
Linda's Latest List
Description
---
Freedom Oliver has plenty of secrets. She lives in a small Oregon town and keeps mostly to herself. Her few friends and neighbors know she works at the local biker bar; they know she gets arrested for public drunkenness almost every night; they know she's brash, funny, and fearless. What they don't know is that Freedom Oliver is a fake name. They don't know that she was arrested for killing her husband, a cop, twenty years ago. They don't know she put her two kids up for adoption. They don't know that she's now in witness protection, regretting ever making a deal with the Feds, and missing her children with a heartache so strong it makes her ill. Then, she learns that her daughter has gone missing, possibly kidnapped. Determined to find out what happened, Freedom slips free of her handlers, gets on a motorcycle, and heads for Kentucky, where her daughter was raised. As she ventures out on her own, no longer protected by the government, her troubled past comes roaring back at her: her husband's vengeful, sadistic family; her brief, terrifying stint in prison; and the family she chose to adopt her kids who are keeping dangerous secrets. Written with a ferocious wit and a breakneck pace, Freedom's Child is a thrilling, emotional portrait of a woman who risks everything to make amends for a past that haunts her still. From the Hardcover edition.
About the Author
---
Jax Miller was born and raised in New York and currently lives in Ireland.