How to Start a Fire (Hardcover)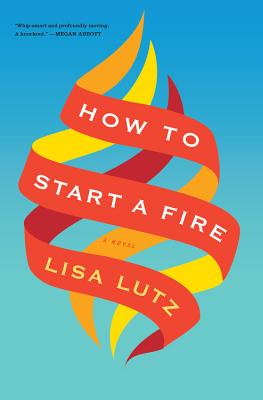 Staff Reviews
---
With Lutz's trademark humor, quippy dialogue, and quirky characters, she introduces readers to three college friends who met in Santa Cruz where they all began attending college in 1993. Anna is a take-charge, wild, adventurous soul raised in an affluent family in Boston.  Her desire to escape her background, her family, and her emotions at every opportunity, even as a child, continues to define her as an adult. Kate was raised by her grandfather after both of her parents died when she was eight years old. She was raised in Santa Cruz and never wanted to leave, her only ambition to manage her grandfather's restaurant. Life has other plans for her. George is a tall, beautiful basketball player who hails from the midwest and had a less catastrophic upbringing than the other two, but who has a penchant for men who are bad for her.
Told from multiple view points, points in time, and locations,  the story leads readers to learn about all three girls from college to graduate school … through failed marriages, career decisions, and life cycles … and about the men that revolve around their worlds. Fans of Lutz will fall in love all over again. Readers who are new to her will race to their bookstores to begin reading about the Spellmans.
— Terry
May 2015 Indie Next List
---
"How to Start a Fire integrates Lutz's trademark humor, quippy dialog, and quirky characters with a story of three college friends who meet in Santa Cruz in 1993. Readers will fall in love with these three women as they experience failed marriages, career decisions, and other significant life events. Those who are new to Lutz will gobble up this standalone entry and then race to their bookstore to begin reading about the Spellman family in her earlier bestselling series."
— Terry Gilman, Mysterious Galaxy Books, San Diego, CA
Description
---
 "How to Start a Fire will keep you captivated from beginning to end."—Town & Country

"Excellent . . . Over the course of the novel we come to know intimately these three complicated women."—Chicago Tribune
 
"Whip smart and cunning, deeply funny and profoundly moving . . . A knockout."—Megan Abbott, author of The Fever
 
When college roommates Anna and Kate find Georgiana Leoni passed out on a lawn, they wheel her to their dorm in a shopping cart. Twenty years later, they gather around a campfire at a New England mansion. What came between—the wild adventures, unspoken jealousies, and one night that changed everything—is the witty, poignant story of our strongest friendships, the people who know us better than we know ourselves. Anna is the de facto leader, as fearless as she is reckless. Quirky Kate is the loyal sidekick, until she's pushed too far. And stunning George is always desired, but just as frequently dumped. Alive with Lutz's crackling dialogue and propulsive storytelling, How to Start a Fire pulls us into the tangled bond shared by three intelligent, distinctive, and deeply real women and pays homage to the abiding, irrational love we have for the family we choose.
 
"Lutz joins the ranks of authors who write deeply and sensitively about the shadowy yet life-affirming terrain of female friendship."—Globe & Mail
 
"Lutz hits a home run in this glorious exploration of friendship . . . [she] portrays three fully drawn, flawed, and compelling women with fresh insight into the mysterious terrain of female friendships—a mix of shared experiences, affection, empathy, jealousy, anger, and love."—Publishers Weekly, starred review
About the Author
---
LISA LUTZ is the New York Times best-selling author of the six novels in the Spellman Files series and Heads You Lose (with David Hayward). Lutz has won the Alex Award and has been nominated for the Edgar Award for Best Novel. She lives in upstate New York.
Praise For…
---
"Few books have so expertly captured the intricacies and complexities of female friendship. Whipsmart and cunning, deeply funny and profoundly moving, Lisa Lutz's How to Start A Fire is a knockout."—Megan Abbott, author of The Fever

"A tale of female friendship and the families we choose for ourselves, How to Start a Fire will keep you captivated from beginning to end."—Town & Country, "9 of the Best Beach Reads for 2015"

"Lutz hits a home run in this glorious exploration of friendship . . . [she] portrays three fully drawn, flawed, and compelling women with fresh insight into the mysterious terrain of female friendships—a mix of shared experiences, affection, empathy, jealousy, anger, and love."—Publishers Weekly, STARRED
 
"The characters are marvelous...relatable and fully dimensional. This is an absorbing tale that will satisfy Spellman fans as well as women's fiction readers who like a good ensemble story."—Booklist, STARRED

"Simply put, one of the best and smartest novels about female friendship I've read in ages. Anna, Kate, and George are women we know, we are, we cheer for but also cringe at. Just like life, in all of its messiness."—Sarah Weinman, Publishers Lunch, "Favorite Books of 2015, From the News Editor"

"With this novel, Lutz joins the ranks of authors who write deeply and sensitively about the shadowy yet life-affirming terrain of female friendship. The characters are perfect because they are flawed and real and kind and cruel. And the story delivers staggering insights into the consequences of choice, no matter how insignificant a moment may seem at the time, as well as the meaning of forgiveness and the ways in which friends can become more like family than our own blood relations – for better or for worse."—Globe & Mail

"Engaging portrait of female friendship...with wit and a gift for capturing the repartee between siblings and old friends, Lutz brings us a memorable and ultimately uplifting saga of three strong, unique women."—BookPage

"A great choice for fans of women's lit and anyone who enjoys books about female friendship."—Pensacola News Journal