Lord Valentine's Castle: Book One of the Majipoor Cycle (Paperback)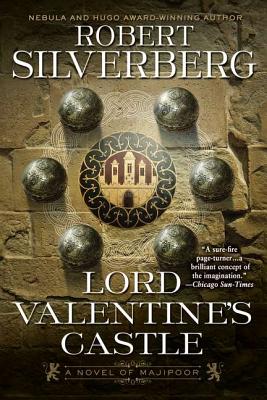 Staff Reviews
---
The first book of Robert Silverberg's classic Majipoor series begins with the laid-back Valentine finding himself wandering into the city of Pidruid, with no memory of who he is or why he's there.  He ends up joining a wandering troupe of jugglers performing for the visiting Coronal, one of the four rulers of Majipoor...who coincidentally shares his name.  Valentine pays this no mind, until insistent dreams tell him that his true place lies not with the troupe, but high up on Castle Mount.  In his quest to reclaim his crown, Valentine must choose between the man he was and the man he's become.
Silberberg has effortlessly blended sci-fi and fantasy into the dreamy world of Majipoor, with the amnesiac protagonist acting as our guide as he travels across the world — from the chalky cliffs of the Isle of Sleep, to the desert continent of Suvrael, all the way up to the titular Lord Valentine's Castle.  This book is a must-read for those who love surreal landscapes, alien societies, and imaginative world-building.
 
— Darcy
Description
---
The Classic Bestselling Saga by Science Fiction Grand Master Robert Silverberg
Lord Valentine's Castle
He is a man with no past— a wanderer without memory of his origins. He calls himself Valentine. As a member of a motley group of entertainers, he travels across the magical planet of Majipoor, always hoping he will meet someone who can give him back what he has lost.
And then, he begins to dream--and to receive messages in those dreams. Messages that tell him that he is far more than a common vagabond—he is a lord, a king turned out of his castle. Now his travels have a purpose—to return to his home, discover what enemy took his memory, and claim the destiny that awaits him…
About the Author
---
Science Fiction Grand Master Robert Silverberg is a winner of both the Hugo and the Nebula Awards.
Praise For…
---
"When Silverberg is at the top of his form, no one is better."
— New York Times bestselling author George R.R. Martin