Age of Conan: Winds of the Wild Sea (Mass Market Paperback)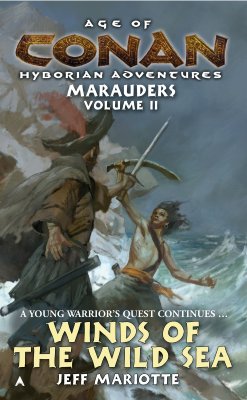 Description
---
In the realm of Aquilonia, in the time when Conan was King, a young barbarian fights to restore the honor of his tribe--and to claim his revenge...
In the bustling city of Tarantia, the young Pictish warrior Kral has been imprisoned after slaughtering a cadre of city Rangers and Aquilonian soldiers, while his friends Alanya and Doniel struggle to find safety in the labyrinthian city streets.
But Kral's search for the Teeth of the Ice Bear--and his assaults on those who stole it--have caught the attention of King Conan himself. There are rumors he is sending a mighty force to Kral's homeland to crush the presumed Pictish rebellion, even as the Picts themselves are on the verge of launching a campaign that will drench the land in blood.
Now, Kral and his companions must follow the trail of the Teeth through the back alley shadows of Tarantia, to the halls of King Conan, and across the seas where their greatest challenge awaits them...