The Waking Land (Hardcover)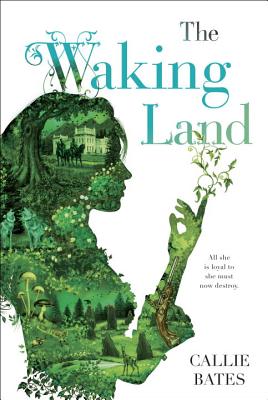 Staff Reviews
---
"The Waking Land is a story of old magic. The kind born from the earth that has slowly seeped into the veins of humanity only to be ostracized and feared by the kingdoms that could never harness the power for themselves. This story begins in one such kingdom with a political hostage who has been raised to hate magic, as well as her mother and father who abandoned her to the king when he came knocking on their door one night to quell a rumored rebellion.
Our young protagonist though is gifted. She hides it well, cloaked in her love of botany, but she is what she has been raised to hate. When forced to flee the kingdom or hang for murder, not only is she on the run from the law but also from the truth of what she is. This is an epic fantasy that focuses on humanity by showing how in accepting the magical parts of who you are, even if you have been raised to hate them, you can change the world. With writing that keeps you caught up in the moment and a band of characters that delight and infuriate you, The Waking Land is a good start to this series."
July 2017 Indie Next List
---
"In a debut as fresh as it is creative, we're welcomed into the land of Eren, where a firm but kind king holds sway over the life of the kidnapped daughter of a rebel bent on installing a new and different man to the throne. It is a land where magick has been outlawed, and where Elanna is a joke to the other young folk at the palace, largely due to her love of gardening and of the plant life of this lush country. Even though King Antoine dotes on her, nothing can be done to help her when he is struck down, a victim of poison. When all eyes turn toward her and her tutor, Elanna is forced to defend herself in the only way she can. But is it too late?"
— Linda Bond, Auntie's Bookstore, Spokane, WA
Description
---
In the lush and magical tradition of Naomi Novik's award-winning Uprooted comes this riveting debut from brilliant young writer Callie Bates--whose boundless imagination places her among the finest authors of fantasy fiction, including Sarah J. Maas and Sabaa Tahir. Lady Elanna is fiercely devoted to the king who raised her like a daughter. But when he dies under mysterious circumstances, Elanna is accused of his murder--and must flee for her life. Returning to the homeland of magical legends she has forsaken, Elanna is forced to reckon with her despised, estranged father, branded a traitor long ago. Feeling a strange, deep connection to the natural world, she also must face the truth about the forces she has always denied or disdained as superstition--powers that suddenly stir within her. But an all-too-human threat is drawing near, determined to exact vengeance. Now Elanna has no choice but to lead a rebellion against the kingdom to which she once gave her allegiance. Trapped between divided loyalties, she must summon the courage to confront a destiny that could tear her apart.

Praise for The Waking Land "Callie Bates has written an exciting and involving first book, and she is clearly a writer of real talent."--Terry Brooks "A heartbreaking, enchanting, edge-of-the-seat read that held me captive from start to finish "--Tamora Pierce "The Waking Land is all about rising to challenges, and it succeeds wonderfully."--Charlaine Harris "A simmering tale of magic that builds to a raging inferno, and hits like a cross between Brandon Sanderson and Pierce Brown."--Scott Sigler "This superior novel blends passionate romance and sweeping magic. . . . Bates has a delicate, precise touch with human and superhuman relationships."--Publishers Weekly "A wonderfully stunning debut . . . Bates' clear, captivating, imaginative storytelling and vivid, distinctive characters will cause readers to soak up every word."--RT Book Reviews
About the Author
---
Callie Bates is a writer, harpist and certified harp therapist, sometime artist, and nature nerd. When she's not creating, she's hitting the trails or streets and exploring new places. She lives in the Upper Midwest. The Waking Land is her debut fantasy novel.