Andromeda's War (Legion of the Damned #3) (Mass Market Paperbound)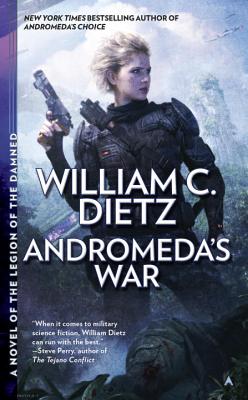 $8.79
Usually Ships in 1-5 Days
Description
---
The final novel in the Legion of the Damned prequel trilogy--from the national bestselling author of Andromeda's Choice and Andromeda's Fall

Now a platoon leader, Legionnaire Andromeda McKee seems to have successfully left behind her true identity of Lady Catherine "Cat" Carletto, one of the last two surviving members of her family targeted for death by Empress Ophelia.
After failing at her one shot at vengeance, Andromeda questioned her own resolve. But now her uncle has been killed in a government raid back on Earth, leaving her the last Carletto standing--and the family's only chance for justice... A chance that comes when the empress's ship crashes on a hostile planet. As a legionnaire, Andromeda McKee has countless kills under her belt. But it will be Cat Carletto who has to pull the trigger on the one who really matters...
About the Author
---
William C. Dietz is the national bestselling author of more than forty novels, including Andromeda's War, Andromeda's Choice, and Andromeda's Fall, some of which have been translated into German, Russian, and Japanese. He grew up in the Seattle area, served as a medic with the Navy and Marine Corps, graduated from the University of Washington, and has been employed as a surgical technician, college instructor, and television news writer, director, and producer. Prior to becoming a full-time writer, Dietz served as director of public relations and marketing for an international telephone company. He and his wife live near Gig Harbor, Washington.