The Mermaid (Paperback)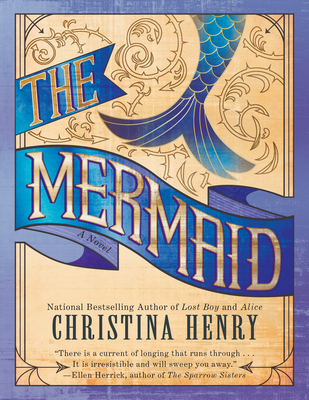 Staff Reviews
---
It's hard not to fall in love with anything Christina Henry writes. The Mermaid tells the story of Amelia, a young mermaid who lives as a human after falling in love with a fisherman of a small village. When the ambitious and insatiable P.T. Barnum decides to find a mermaid for his new exhibition and tales of Amelia reach his ears, he convinces her to become part of his show. But Amelia begins to question whether or not she can ever leave and soon learns she must fight for her independence and agency as both mermaid and woman. Written with fairy tale-like narration and enchanting characterization, The Mermaid is a poignant portrayal of love and freedom. 
— Kelly
Description
---
From the author of Lost Boy comes a beautiful historical fairy tale about a mermaid who leaves the sea, only to become the star attraction of history's greatest showman.

Once there was a mermaid called Amelia who could never be content in the sea, a mermaid who longed to know all the world and all its wonders, and so she came to live on land.

Once there was a man called P. T. Barnum, a man who longed to make his fortune by selling the wondrous and miraculous, and there is nothing more miraculous than a real mermaid.

Amelia agrees to play the mermaid for Barnum and walk among men in their world, believing she can leave anytime she likes. But Barnum has never given up a money-making scheme in his life, and he's determined to hold on to his mermaid.
About the Author
---
Christina Henry is the author of Lost Boy, Alice, Red Queen, and the national bestselling Black Wings series featuring Agent of Death Madeline Black and her popcorn-loving gargoyle, Beezle.
Praise For…
---
"Beautifully written and daringly conceived, The Mermaid is a fabulous story, in both senses of that word. It's full of magic and passion and courage, set against a convincing historical backdrop in which women, much less mermaids, have only the power they seize for themselves. Henry's spare, muscular prose is a delight. I loved this novel."—Louisa Morgan, author of The Secret History of Witches

"There is a current of longing that runs through The Mermaid: longing for the sea, for truth, for love. It is irresistible and will sweep you away."—Ellen Herrick, author of The Sparrow Sisters

"In her latest novel, The Mermaid, Christina Henry weaves a captivating tale of an intriguing young woman who finds herself in the world of the greatest showman, PT Barnum. Original and magical, this is a novel to dive into and savour."—Hazel Gaynor, New York Times bestselling author of The Cottingley Secret
 
"Beautifully eloquent language…the credible historical setting will draw readers into this lovely reimagined fairy tale."—Booklist (starred review)


Praise for Lost Boy

"Christina Henry shakes the fairy dust off a legend; this Peter Pan will give you chills."—Genevieve Valentine, author of Persona

"A riveting rewrite of Peter Pan...Never wanting to grow up, never wanting anyone else to grow up, doesn't look like such an innocent and charming ambition anymore."—The Wall Street Journal

"Multiple twists keep the reader guessing, and the fluid writing is enthralling...Henry immerses the reader in Neverland and genuinely shocks...This is a fine addition to the shelves of any fan of children's classics and their modern subversions."—Publishers Weekly

"This wild, unrelenting tale, full to the brim with the freedom and violence of young boys who never want to grow up, will appeal to fans of dark fantasy."—Booklist

"Turns Neverland into a claustrophobic world where time is disturbingly nebulous and identity is chillingly manipulated...a deeply impactful, imaginative and haunting story of loyalty, disillusionment and self-discovery."—RT Book Reviews

"Once again, Henry takes readers on an adventure of epic and horrific proportions...Her smooth prose and firm writing hooked me up instantly and held me hostage to the very end."—Smexy Books

"We all have a soft spot for the classics that we read when we were growing up. But…this retelling will poke and jab at that soft spot until you can never look at it the same way again."—Kirkus Reviews

"Lost Boy owes more to William Golding's Lord of the Flies than it does Barrie, as Henry examines the darker side to leaving a bunch of boys to fend for themselves… This audacious and gripping treatment of this well-known story is expertly told by Henry's emotive, evocative prose."—Starburst Magazine

"Lost Boy is a fantastic adventure story with a Lord of the Flies sensibility… Henry's writing is among the most substantive and touching in the fantasy genre."—I Smell Sheep