Warcross (Hardcover)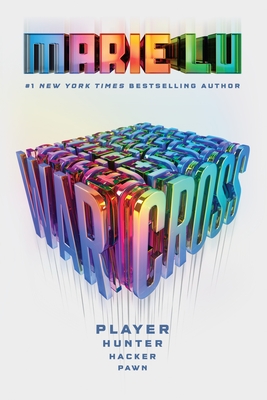 Staff Reviews
---
Ready for a wild ride? This book will take you on an adventure like no other. I enjoyed diving into the world of Warcross, for I felt like I was a player in the game. If you love sports, travel, or video games, then this book is perfect for you. I couldn't believe it when I finished it, all I want is more.
— Kaitlyn
"I can simply describe this book as: the video game Olympics. This was one of my favorite books of 2017, hands down. Warcross is a worldwide game where players compete in a world of virtual reality. This story was so captivating, I honestly felt like I was in the stands watching these characters compete. It was so action-packed and vibrant, this is definitely a read that I hope you fly-through as quickly as I did!" - Kaitlyn
Watch my video review here: https://www.youtube.com/watch?v=3qEzjdd_vlQ
Marie Lu at Mysterious Galaxy: https://www.youtube.com/watch?v=9kOZHfatwMw
— From
Kaitlyn's Picks!
Description
---
From #1 New York Times bestselling author Marie Lu—when a game called Warcross takes the world by storm, one girl hacks her way into its dangerous depths.

For the millions who log in every day, Warcross isn't just a game—it's a way of life. The obsession started ten years ago and its fan base now spans the globe, some eager to escape from reality and others hoping to make a profit. Struggling to make ends meet, teenage hacker Emika Chen works as a bounty hunter, tracking down Warcross players who bet on the game illegally. But the bounty-hunting world is a competitive one, and survival has not been easy. To make some quick cash, Emika takes a risk and hacks into the opening game of the international Warcross Championships—only to accidentally glitch herself into the action and become an overnight sensation.

Convinced she's going to be arrested, Emika is shocked when instead she gets a call from the game's creator, the elusive young billionaire Hideo Tanaka, with an irresistible offer. He needs a spy on the inside of this year's tournament in order to uncover a security problem . . . and he wants Emika for the job. With no time to lose, Emika's whisked off to Tokyo and thrust into a world of fame and fortune that she's only dreamed of. But soon her investigation uncovers a sinister plot, with major consequences for the entire Warcross empire.

In this sci-fi thriller, #1 New York Times bestselling author Marie Lu conjures an immersive, exhilarating world where choosing who to trust may be the biggest gamble of all.
About the Author
---
Marie Lu is the author of the #1 New York Times bestselling series The Young Elites, as well as the blockbuster bestselling Legend series. She graduated from the University of Southern California and jumped into the video game industry as an artist. Now a full-time writer, she spends her spare time reading, drawing, playing games, and getting stuck in traffic. She lives in Los Angeles with her illustrator/author husband, Primo Gallanosa, and their dogs.
Praise For…
---
Praise for Warcross:
A New York Times Bestseller
An Amazon Editor's Favorite YA Book for Fall 2017 
An Amazon September Best of the Month Pick — YA/Teens
An Amazon Best YA Book of 2017
A Kirkus Best Teen Book of 2017
A Publishers Weekly Best YA Book of 2017
A Barnes & Noble Best Book of 2017
A Boston Globe Best YA Book of 2017
A POPSUGAR Best YA Book of 2017
A Paste Magazine Best YA Book of 2017
A Bustle Best YA Book of 2017

"A vibrant, action-packed shot of adrenaline. Lu delivers characters with heart and determination, then sets them loose in a luminously conceived world of infinite possibility."—Leigh Bardugo, #1 New York Times bestselling author of Six of Crows

★ "With a keen eye for detail, Lu (the Young Elites series) vividly imagines a future society where gaming is woven into daily life . . . Think The Hunger Games meets World of Warcraft."—Publishers Weekly, starred review

"Marie Lu's Warcross is unlike anything I've ever read—clever, smart, romantic—yet exploding with color, action, and unrelenting speed. I flew through this book—it's absolutely fantastic."—Sabaa Tahir, #1 New York Times bestselling author of An Ember in the Ashes

★ "A stellar cyberpunk series opener packed with simmering romance and cinematic thrills."—Kirkus Reviews, starred review

"Clear your schedule, because you won't stop reading Warcross until you're done. Addictive, fast-paced, and totally immersive, this book takes you from a futuristic Tokyo on a high-tech tour of incredible virtual worlds. Packed with danger, intrigue, and heart-pounding gameplay, set in a world built with an incredible eye for detail, Warcross is Marie Lu's best book yet."—Amie Kaufman, New York Times bestselling author of Illuminae

★ "A highly engaging and incredibly exciting science fiction novel for young adults."—School Library Journal, starred review
  
"An immersive world that I didn't want to leave. Warcross is pure genius. I'm ready for the sequel!"—Kami Garcia, #1 New York Times bestselling coauthor of Beautiful Creatures and author of The Lovely Reckless

"[A]s brightly hued as Emika's sleeve tattoo and rainbow hair — a fast-paced, fun-filled adventure."—The Washington Post

"The novel is a page-turner, and even those who are not gamers will cheer for Emi as she tries to discover who is genuine and who is not."—VOYA 

"The Hunger Games meets Minecraft as a teen hacker enters a virtual reality in Marie Lu's electrifying novel Warcross."—Seventeen 

"[A]n inventive first in a series that showcases Lu's versatility as a storyteller. . . . Dystopia, dark fantasy, and now a sci-fi thriller—what can't Lu do? Her boatloads of fans can't wait to find out."—Booklist

"[A]s visual, kinetic, and furiously paced as any video game. . . . It's 'Gleaming the Cube' meets 'Strange Days' meets 'Blade Runner,' and it's a lot of fun."—The New York Times 

"Warcross is the kind of all-consuming fantasy novel that pulls you head-first into a brand new world that begins to feel so familiar you can't wait to get your hands on the next one."—New York magazine