Wonders of the Invisible World (Paperback)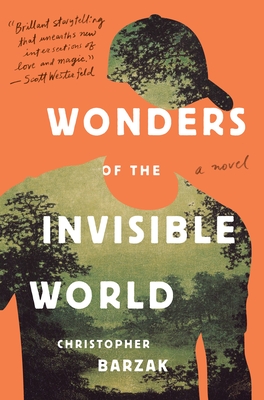 $9.99
Usually Ships in 1-5 Days
Description
---
For fans of Patrick Ness and Tom McNeal comes a page-turning novel that's part ghost story, part love story.
 
Aidan Lockwood lives in a sleepy farming community known for its cattle ranches and not much else. That is, until Jarrod, a friend he hasn't seen in years, moves back to town. It's Jarrod who opens Aidan's eyes to events he's long since forgotten, and who awakes in him feelings that go beyond mere friendship. But as Aidan's memories return, so do some unsettling truths about his family. As Aidan begins to probe into long-buried secrets, the lines between the past and the present, tales and truths, friends and lovers begin to blur, and Aidan will need to confront a family curse before he can lay claim to his life once more.
 
"Brilliant storytelling that unearths new intersections of love and magic." —Scott Westerfeld, New York Times bestselling author of Zeroes
 
"The unpredictability of curses, magic, and love are inexorably entwined in this gracefully written story." —Publishers Weekly, starred review
 
"A captivating exploration of the power of place, family, memory, and time itself."
—Kirkus Reviews
 
"Barzak expertly balances magical realism, historical flashbacks, and
contemporary teen romance in Aidan's journey of self-discovery." —Booklist
About the Author
---
Christopher Barzak's fiction includes the award-winning adult novel One for Sorrow, which was made into the major motion picture Jamie Marks Is Dead; the Nebula Award finalist The Love We Share Without Knowing; and the short-story collection Before and Afterlives, which won the Shirley Jackson Award. Christopher grew up in rural Ohio, has lived in a Southern California beach town and the capital of Michigan, and has taught English outside of Tokyo. Currently he teaches fiction writing in the Northeast Ohio MFA program at Youngstown State University. Learn more about him at christopherbarzak.com.
Praise For…
---
Stonewall Honor Winner

★ "The unpredictability of curses, magic, and love are inexorably entwined in this gracefully written story." —Publishers Weekly, Starred
 
"Part ghost story, part love story, this page-turner is a captivating exploration of the power of place, family, memory, and time itself." —Kirkus Reviews
 
"Barzak expertly balances magical realism, historical flashbacks, and contemporary teen romance in Aidan's journey of self-discovery." —Booklist
 
"The complexity of the pairing of real and the unreal . . . is striking, and rather haunting." —Tor.com
 
"A wonder itself—a coming-of-age, coming-out, and crossing-into-the-mystic novel all rolled into one." —Tom McNeal, National Book Award finalist for Far Far Away 

"Brilliant storytelling that unearths new intersections of love and magic." —Scott Westerfeld, bestselling author of Uglies and Zeroes

"If you don't want a book with magic, mystery, lying parents, ancient curses, and true, true love (plus wonderful writing), then I'm not sure I care to know you. But if you do, then Wonders of the Invisible World is the book you've been waiting for." —Karen Joy Fowler, author of The Jane Austen Book Club


From the Hardcover edition.