Railsea (Hardcover)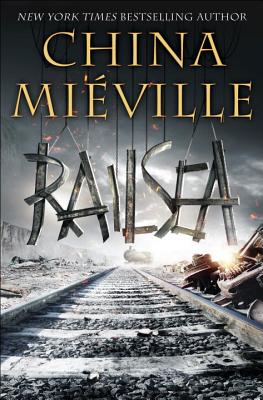 Staff Reviews
---
"This is the story of a bloodstained boy." So begins a thrilling, dystopian adventure by award-winning author, China Mieville, which will enthrall readers of all ages. We meet Sham as he joins the crew of an ancient diesel train which thunders across the Railsea on an endless hunt. The crew harpoons the giant moles that burrow through the wasteland, which, like the whales of old, provide food and oil. Captain Naphi, a Steampunk avatar of Captain Ahab, is obsessed with killing the great white beast that made her less than human. Sham longs to escape the horrors of the hunt, and the fearsome monsters that attack the crew. He gets his chance when he finds a relic in a derelict train that hints at a miraculous world beyond the sea of rails. On his quest to find the world, Sham becomes the hunted, and learns a secret with the power to undermine the Railsea. A cautionary tale about unbridled industrialization, and a mind-blowing feat of imagination.
- R.J. Crowther Jr.
— From
Rob Crowther
Description
---
On board the moletrain Medes, Sham Yes ap Soorap watches in awe as he witnesses his first moldywarpe hunt: the giant mole bursting from the earth, the harpoonists targeting their prey, the battle resulting in one's death and the other's glory. But no matter how spectacular it is, Sham can't shake the sense that there is more to life than traveling the endless rails of the railsea-even if his captain can think only of the hunt for the ivory-coloured mole she's been chasing since it took her arm all those years ago. When they come across a wrecked train, at first it's a welcome distraction. But what Sham finds in the derelict--a series of pictures hinting at something, somewhere, that should be impossible--leads to considerably more than he'd bargained for. Soon he's hunted on all sides, by pirates, trainsfolk, monsters and salvage-scrabblers. And it might not be just Sham's life that's about to change. It could be the whole of the railsea.
From China Mieville comes a novel for readers of all ages, a gripping and brilliantly imagined take on Herman Melville's Moby-Dick that confirms his status as "the most original and talented voice to appear in several years." (Science Fiction Chronicle)
About the Author
---
China Mieville is the author of several books, including Un Lun Dun, Perdido Street Station, The City & The City, Kraken, & Embassytown. His works have won the Hugo, the British Science Fiction Award (twice), the Arthur C. Clarke Award (three times) & the World Fantasy Award. He lives & works in London.
Praise For…
---
"Other names besides [Herman] Melville's will surely come to mind as you read this thrilling tale—there's Dune's Frank Herbert. . . . But in this, as in all of his works, Miéville has that special knack for evoking other writers even while making the story wholly his own."—Los Angeles Times
 
"[Miéville] gives all readers a lot to dig into here, be it emotional drama, Godzilla-esque monster carnage, or the high adventure that comes only with riding the rails."—USA Today
 
"Superb . . . massively imaginative."—Publishers Weekly (starred review)
 
"Riveting . . . a great adventure."—NPR
 
"Wildly inventive . . . Every sentence is packed with wit."—The Guardian (London)