Unbreakable (Legion) (Paperback)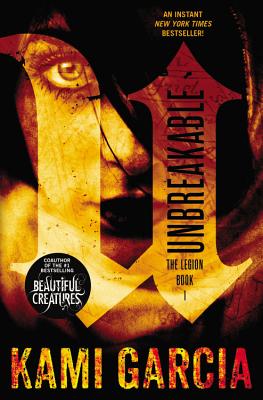 $11.99
Usually Ships in 1-5 Days
Staff Reviews
---
Young Adult
Kennedy Waters' awareness of the paranormal goes from zero to full immersion in the span of a few weeks in Kami's first novel of The Legion, a secret society devoted to ghostbusting and demon-exorcising. A month after her single mother's untimely death, Kennedy experiences two ghost encounters, and meets the members of the Legion, who believe she has the special abilities to become one of them, especially as her mother was a member. Kennedy has totry to learn more about the Legion ( including attractive male twins) and her role in it, and her mother's secrets, as she and her team race to confront a particularly dangerous demon.
–Maryelizabeth
— From
Maryelizabeth's Past Reviews
Description
---

2013 BRAM STOKER AWARD NOMINEE FOR SUPERIOR ACHIEVEMENT IN A YOUNG ADULT NOVEL.
I never believed in ghosts.Until one tried to kill me.
When Kennedy Waters finds her mother dead, she doesn't realize that paranormal forces are responsible--not until mysterious identical twins Jared and Lukas Lockhart break into her room and destroy a deadly spirit sent to kill her.
Kennedy learns that her mother's death was no accident, and now she has to take her place in the Legion of the Black Dove--a secret society formed to protect the world from a vengeful demon. A society left in the hands of a misfit group of teens with unique skills: Jared, combat trained, with a temper to match; Lukas, rogue hacker and code breaker; Alara, whose attitude is as powerful as her voodoo protections; and Priest, an engineer capable of making a weapon out of a soda can.
As the teens use their individual talents to battle paranormal entities, they earn their rightful places in the Legion--except for Kennedy, who is left wondering if she is truly one of them.
Can she stay alive long enough to find out--without losing her heart in the process?
Protect Yourself.What you can't see CAN hurt you.

About the Author
---
Kami Garcia is the #1 New York Times bestselling coauthor of Beautiful Creatures, which is now a major motion picture. Unbreakable is her first solo novel and the first book in the Legion series. Kami lives in Maryland with her family and her dogs, Spike and Oz, named after characters from Buffy the Vampire Slayer. You can find her online at www.kamigarcia.com and on Twitter @kamigarcia.