Breed: A Novel (Paperback)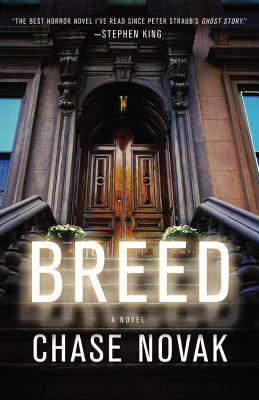 Staff Reviews
---
Breed is a terrifying tale of gothic body horror, a fairy tale seen through the lens of David Cronenberg.  Alex and Leslie are beautiful and wealthy, and live in a historic New York townhouse, but more than anything they desire a child.  They've spent a fortune on infertility treatments, and Leslie grows despondent as every effort fails.  In a final act of desperation, they travel to Slovenia and undergo experimental gene therapy.  The treatment turns them into animals in heat, but once the animal is unleashed, there's no going back.  Leslie gives birth to twins, who we meet ten years later, trapped inside their dilapidated home.  Every night, the twins are locked in their rooms, terrified by the bestial sounds coming from downstairs.  Flesh gives way to fur, reason starts to slumber, and when mommy says, "I'll eat you up," you better believe her.  Nightmare of the Year Award.
– R.J. Crowther Jr.
— From
Rob Crowther
Description
---
Critically celebrated novelist Scott Spencer delivers a Rosemary's Baby-like novel of gothic horror, set against the backdrop of modern-day Upper East Side Manhattan.

Alex and Leslie Twisden lead charmed lives--fabulous careers, a luxurious home in Manhattan, a passionate marriage. What's missing is a child, and as they try one infertility treatment after another desire becomes obsession. As a last-ditch attempt to make their dream of parenthood a reality, the Twisdens travel to Slovenia, where they undergo a painful procedure that gives them what they've so fervently wanted...but with awful consequences.

Ten years later, coddled and living in a house of secrets, the twins Adam and Alice find themselves locked into their rooms every night, with sounds coming from their parents' bedroom growing and more disturbing.

Desperate for answers, the twins set out on a quest to uncover the truth about the man and woman who raised them. What they discover will reveal a threat so terrible that it must be escaped, at any cost.
About the Author
---
Chase Novak is the pseudonym of Scott Spencer. Spencer is the author of ten novels, including Endless Love, which has sold more than two million copies to date, and the National Book Award finalist A Ship Made of Paper. He has written for Rolling Stone, the New York Times, The New Yorker, GQ, and Harper's. BREED is his debut novel as Chase Novak.
Praise For…
---
"This violent page-turner had a big impact on my novel The First Bad Man, because it forced me to recognize that I wanted to write a thriller too - i.e., I wanted the reader to read quickly, with some urgency."—Miranda July, New York Times Book Review